Discover more from MUSIC x
Regular insights about the future of music, media & tech. Team: Bas Grasmayer (founder / Tuesday editor), Maarten Walraven (Thursday editor).
Over 5,000 subscribers
✖️ Streaming wars for superfans ⚔️ How generative music works ⌨️ Blockchain startups to watch ⛓️
Hi everybody!
I am busy preparing my talk at Slush Music next week. It's probably going to be my most well-prepared talk since presenting my thesis at Midem years ago.
I've been putting many hours of research into it - particularly on the history of innovation in music, which is one of the core points of the talk. Synopsis:
"From electric light to the piano to drum computers, new technology has always had a disruptive and enabling impact on music and its business ecosystem. From Beethoven to the Bronx, this talk explores how pioneers in music have leveraged technology to reshape the rulebook for generations to come. Ultimately culminating with the questions: how do we follow in these pioneers' footsteps, and what are today's technologies destined to redefine music and the entire business?"
I am super excited to be uniting my two hats in one talk, and sharing all that I'm learning indirectly since joining classical music streaming service IDAGIO earlier this year.
If you're not at Slush Music, don't worry: there will be a video (either a recording from the conference, or if they're not recording, I'll make my own YouTube version).
The preparation work means no article from me again, but to make up for it, here's an extra pack dose of MUSIC x TECH x FUTURE.
For all the Dutch people on my newsletter: there's a new initiative called NO THANKS! which wants to address sexual harassment in nightlife & festivals (say hi & show your support).
Love,
Bas
Latin America
How Major Lazer infiltrated Cuba's DIY internet to throw a giant Havana concert
Fascinating story about doing digital strategy, even under the most difficult conditions (more on Cuba's DIY internet). Reminds me a little of my time in Bulgaria. When I moved there in 2007, I found out that buildings, and sometimes parts of neighbourhoods, often had some type of internal intranet used for filesharing movies, music, etc. because with an average monthly income of about €200 at the time, most people could not afford the pre-streaming era legal options.
I'm going to Cuba later this year and would LOVE to meet locals who are into tech and / or music. Connect me.
Is the YouTube effect helping fuel the Latin music global explosion?
In just one year, YouTube has seen a 300% increase in the number of Latin music videos to join the "YT Billion Views Club."

Lyor Cohen (Global Head of Music for YouTube): "What many people don't know is that 80% of all of watch time on YouTube is done through internal recommendations. That's one of the biggest ways we surface up the artists."
Toolbox
5 social media metrics musicians think about all wrong
Understand your metrics, track your following and make the connections that really matter for building a healthy and happy fanbase.
100 music blogs to submit your music to
Nice piece by Ryan Harrell of MIDINation, who also writes about some strategy for pitching your music. Regarding the 5-4-3-2-1 rule, I would add: spread this out carefully over time. Doing all of these steps in the space of 1 day, or even 1 week, is not a good idea. Develop long term relations with the curators who mean most to you and your music.
Social landscape
Kanye West superfans are trying to help him beat Taylor Swift
Young music fans are using streaming parties to try to launch their favourite artists to the top of the charts, while the companies that track record sales do everything they can to stop them.
Instagram influencers on why so many music videos look like their posts
The new video aspiration is basically just a travel blogger's nine most-liked set to a montage. Why though?
Musical.ly sells for $800 million but peaked by being too Silicon Valley
Mark Mulligan: "Musical.ly became a one trick pony that suffered from not being able to use its core functionality as a beachhead for something much bigger. In the 20th century the railroad companies were disrupted by cars because they thought they were railroad companies and didn't realise they were transportation companies. Similarly, Musical.ly got caught up with being a social music company rather than a social company."
musicindustryblog.wordpress.com • Share
Musical.ly: a proving ground for digital natives
Musical.ly gives digital natives a way to learn skills such as short-form content creation, visual storytelling, and audience engagement, which are crucial to building a personal brand in any communications field.
Facebook launches collaborative Stories for Groups and Events
Interesting announcement – I love short form, expiring content and have written in-depth about it before. Will be interesting to see if this takes off. Right now, I get way more viewers on my Instagram stories than my Facebook stories, despite having higher visibility on the latter.
Turning your online persona into $$$. Drip, a label-subscription service before being acquired by Kickstarter, has now relaunched as a subscribe-to-creator service. Not dissimilar from Patreon.
AI & generative music
The 'first' AI pop album is on its way
YouTube sensation Taryn Southern's album composed entirely on artificial-intelligence platforms sparks a conversation about music's future.

(I've lost track, but I'm also not sure whether this can be called the first)
Amazing interactive presentation on generative music. I think rule-based composition is one of the most important skills for young producers now. Why? Because we are entering an age where media is increasingly interactive and technologies like VR and AI will accelerate this process, converging into an entirely new media landscape.
Can AI predict hit songs before they've blown up?
HitWizard graced the stage of the Amsterdam Dance Event Tech conference to tell us how we can use AI and neural networks to guess which songs will be hits.
Wide view
Unlocking blockchain: 5 music start-ups to watch
Tickets Cloud founder Katerina Kirillova highlights some of the companies hoping to revolutionise the music business using blockchain technology.
A vision for decentralized computing
An optimistic vision for a blockchain-based future by Blockstack's Muneeb Ali. But pace your expectations: "We're seeing many experiments and approaches for blockchains and decentralized computing. Experimentation is the right approach here and in a decade standards can emerge."
Deep learning is eating software
Developments in deep learning are changing the rules for software development and programming: "Instead of writing and maintaining intricate, layered tangles of logic, the developer has to become a teacher."
This opens up immense possibilities, but also
Fun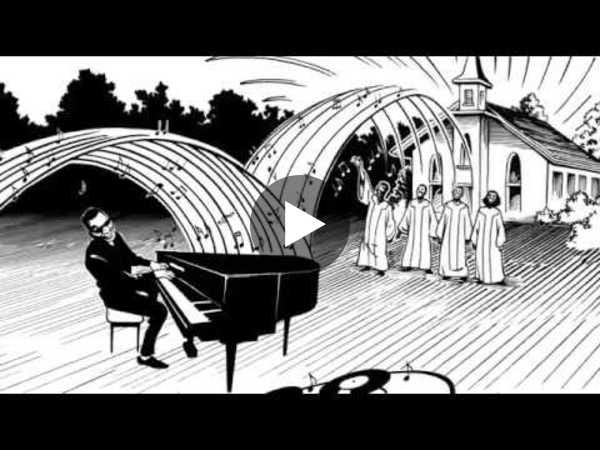 Theft! A History of Music - YouTube
Download 'Theft! A history of music', a new free graphic novel exploring 2,000 years of musical borrowing
From Handel and Beethoven to Robert Johnson, Chuck Berry, Little Richard, Ray Charles, the British Invasion and Public Enemy. Released under a Creative Commons license, but there's also a paperback version which you can buy.
❤️ twitter - mxtxf fb group - facebook - musicxtechxfuture.com
📰 Last week: EU streaming giants teaming up 💪 How AI startups can target music 🤖 Soundcloud's last chance… 💸
Regular insights about the future of music, media & tech. Written & composed by @basgras.
If you don't want these updates anymore, please unsubscribe here.
If you were forwarded this newsletter and you like it, you can subscribe here.
Powered by Revue