✖️ Reducing music's climate impact through innovation, Jay Z's phone, Spotify's future 🌳
Hi everyone,
I'd like to kick this newsletter off with a quote. A quote from a video game character in Kingdom Come: Deliverance, a historically accurate game set in medieval Bohemia, a real work of art.
The somewhat Stoic quote goes along these lines: "Life is one long series of problems to solve. The more you solve, the better a person you become."
I love this quote, because this is how I find meaning in what I do. Whether that's making sure classical music has an appropriate digital home when I headed up product at IDAGIO (who were recently called one of 2019's best inventions by TIME), helping music companies with digital strategy, or getting out into the streets for demonstrations.
For this week's edition I wrote about music and sustainability, which is also a direction I intend to explore more through this newsletter. As Chiara Badiali of Julie's Bicycle pointed out in an interview at ADE Green (Amsterdam Dance Event conference's sustainability track), climate change is not just a scientific problem, but also a cultural problem. Working in the cultural sector, we can have an inspiring impact and cause a ripple effect.
As I'll be covering, transition to a climate neutral or climate positive business, requires a lot of innovation. Both digitally, as well as "in real life".
This Friday (29 Nov) is the next large global climate protest. They're occurring in most large cities around the world. Consider taking the afternoon off and joining. Do it in a way you're comfortable with. You can just go there and stand there. Look around. Via the link you can find out more about climate protests near you or just Google climate strike + your city name.
If anyone's planning to join the Berlin one, drop me a line. We can make a WhatsApp group and get some of the music scene together.
Love,
Bas
From me, for you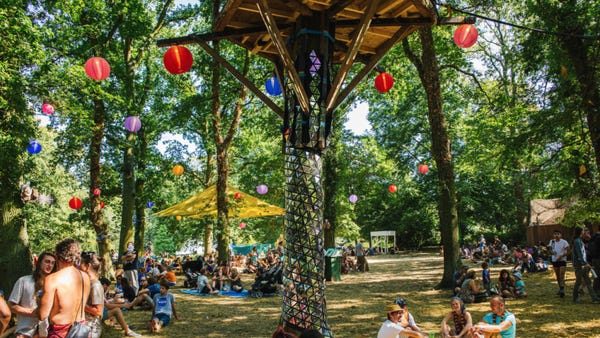 🌱 Reducing music's climate impact
On the back of the news that Coldplay won't tour until they can find a climate positive way to do so, this week I investigate the impact of touring, live events, and audience travel on our environment, and explore the innovations and solutions being tested and applied for a better future.
www.musicxtechxfuture.com • Share
Worth your time this week
📱 Jay Z's cell phone partnership strategy, explained
A look at Jay Z's partnerships with telcos and OEMs over the years. My favourite one is 2003's Black Phone: "The Black Phone had the right idea, but the technology wasn't ready to realize its potential. Mobile connectivity wasn't advanced enough to seamlessly download (legal) albums directly to phones. Albums had to be preloaded on devices. That's why The Black Phone was sold as a separate device and not a digital download. "
⚖ Spotify needs to make a decision about its future, based on whether it actually believes its own mission statement
Cherie Hu weighs in on the discussion surrounding Spotify's mission to give a million artists the opportunity to live off of their work. A great piece that approaches the topic by looking into the history of Spotify's acquisitions.
www.musicbusinessworldwide.com • Share
⚡ Why Spotify may soon have a big TikTok problem
There was news that TikTok's parent company is coming out with an on-demand music service soon. Tim Ingham investigates the ways in which TikTok is starting to become a threat for Spotify and other streaming services, by investigating how new ways of connecting to music compete with older ways more familiar to many of us.
Concluding
That's all for this week. The feature is an area I'm exploring more, but since I'm relatively new to the landscape of music and sustainability (which is not well-mapped), it took a bit longer then usual. Hence the later arrival and shorter edition.
👉 If you'd like to work with me: I am still looking for new opportunities in product leadership, digital strategy, or adjacent. I'm looking to work from Berlin (LinkedIn). Drop me a line.
❤️ twitter - musicxtechxfuture.com - linkedin
Regular insights about the future of music, media & tech. Written & composed by @basgras.
If you don't want these updates anymore, please unsubscribe here.
If you were forwarded this newsletter and you like it, you can subscribe here.
Powered by Revue