✖️ Niche streaming opportunities 🔼 The word of mouth economy 🤑 Connecting FB Groups to Pages 👩‍💻
Hey, everybody!
🤝 Since its inception, MUSIC x TECH x FUTURE has always been like a community to me. However, I realise if you're on the receiving end of these newsletters, it may not feel like that. To change that, I've now created a MxTxF backstage on Facebook in order to facilitate more discussion about the topics of this newsletter.
⚙️ If there are any (QA) engineers or product people at Spotify reading: there's a rare glitch on backend or db-level and I can't get your customer support team to escalate it (empties out user library, while playlists are still somehow accessible to subscribers & through search). If you work there, get in touch for more details.
Really starting to look forward to the c/o pop convention in Cologne this August! I've helped put together some panels & hope to see some of you there.
Have a great week!
Love,
Bas
From me, for you
The best writing tip I ever got
One line by a teacher 15 years ago changed the way I write, and it's at the heart of what I do every week with this newsletter.
www.musicxtechxfuture.com • Share
As streaming services mature, opportunity emerges in the niche
What comes after the Soundcloud and Spotify generation of music startups? My latest and last piece in the run-up to the c/o pop convention.

Streaming music
Bob Lefsetz: "Your catalog lives forever online. Forget the big album build-up, the hype. It's ignored. Almost everything is ignored up front. The money is in what lasts. And if someone likes one cut of yours, they're going to check out more. Your success is based upon cumulative streams, not sales of albums, and the streams go on forever."
Archive Team promises to back up SoundCloud amid worries of a shutdown
You may have heard of The Internet Archive. These people are building the digital equivalent to a library in order to preserve our collective culture, which is now mostly expressed online.
Spotify's Tuma Basa on curating RapCaviar, best pitching practices
Spotify's Tuma Basa walks Billboard through the process of pitching and placing artists and songs on playlists at the world's largest streaming service.
Beyond streaming
Surround sound? You ain't heard nothing yet
At Empac, musicians and technicians are learning to work with sophisticated advances in spatial audio technologies.
Vevo's new Watch Party Live is Twitch meets Turntable.fm for music artists
The fact that we're always connected means livestreams, social interactions, and virtual parties are increasingly viable.
Can small businesses survive on the internet?
Hype Machine, a small but beloved music streaming site, attempts a comeback without selling out.
Wide view
Facebook 'Groups for Pages' unlocks fan clubs
With Facebook's newest feature, a musician could run an on-site fan club. Come join MUSIC x TECH x FUTURE's backstage on Facebook.
Take a trip to Los Angeles' new internet celebrity summer camp
As viral fame becomes more attainable, summer camps may be the next classroom for kids.
Facebook and Instagram are becoming social media monopolies
Facebook is now "becoming the de facto near-monopoly mobile choice for brands and direct response (i.e., lead-gen) advertisers."
Fun
I'm a long-term subscriber, so I've never actually experienced Spotify with ads, but for those who have, I've been assured this will be familiar. 😉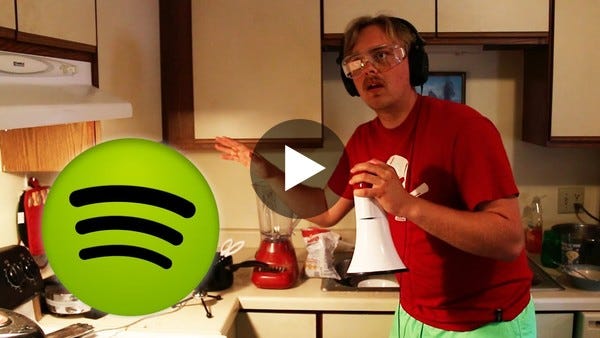 Recording A Spotify Ad - YouTube
❤️ twitter - patreon - facebook - musicxtechxfuture.com

📰 Last week: AI music needs human narrative 👩‍🎤 Mental health and AI-made music ⚕️ How labels compete for playlists 📣
Regular insights about the future of music, media & tech. Written & composed by @basgras.
If you don't want these updates anymore, please unsubscribe here.
If you were forwarded this newsletter and you like it, you can subscribe here.
Powered by Revue