✖️ Authorless vs Authorful Music, Billie Eilish & climate change, Spotify hackers, scalpers, AI's endgame 🔥
Special emphasis on artificial intelligence this week. Longer edition than usual - don't miss the music hack at the end. Star it in your inbox, so you can come back to it throughout the week. Enjoy!
Love,
Bas
From me, for you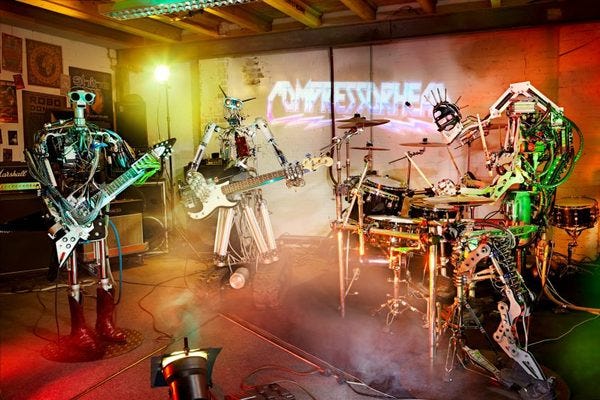 How the rise of Authorless Music will bring Authorful Music 🖋️
Forty thousand. That's the number of songs being added to Spotify every day. Per year, that's nearly 15 million. With AI, we are approaching a world where we could easily create 15 million songs per day. Per hour even. What might that look like?
www.musicxtechxfuture.com • Share
No future, no music
Billie Eilish fans can earn free tickets to her tour by fighting climate change 🖱️
Billie Eilish teamed up with the Global Citizen platform to get fans to spread the word about climate change and other social causes. The platform rewards points to fans for tweeting about causes, signing petitions, and mailing politicans. These can then be used to enter a draw to win tickets to Eilish's sold out tour.
Harassment and bias still major issues for women in music, says study 😡
Important collaboration between shesaid.so and InChorus. Findings:
Incidents most commonly took the form of: 'insensitive comments/questions' (22%), 'derogatory language' (15%), and 'offensive jokes/banter' (12%).

Of particular note, 8% all of incidents have related to 'unwanted physical contact'. This has predominately affected women aged 26–35, by men who were primarily Senior or C-Suite. 67% of these incidents took place in a group environment.
People, address this shit when you see it. Openly.
shesaid.so and InChorus have also launched a tool where you can anonymously report incidents, both large and small.
AI Music
Amazon announces AI music-making tool, AWS DeepComposer 🎹
As Amazon describes it, it's a musical keyboard powered by generative AI. The pitch is that all you have to do is play a melody and the AI can create the rest of the song for you (similar to the pitch of Microsoft SongSmith released in 2009). If you're curious about how it works, tune into the speech by Matt Wood (VP of AI at AWS)- he explains from 09:05 about how generative AI learns using 2 neural nets: one for generation and one for discrimination.
I have not had time to look into it personally yet, but he seems to suggest that you can train the neural nets with a music library you supply, so you can model genres outside of the ones pre-supplied. And that's indeed where music is heading: humans instructing and training AI tools for human-AI collaboration. Right now, there's still a barrier where you need some tech skills to do so, but I imagine that barrier will be gone in 2 years.
www.residentadvisor.net • Share
What's the real end-game for AI music? Popgun's CEO has some ideas 🎮
Case in point: Popgun's SplashPro plugin for Ableton Live. A simple tool to help music makers generate music from inside their DAW (and if I'm honest, it sounds way better than the stuff in Amazon's demos). Read the article which interviews Popgun's Stephen Philips and see the demos. Paraphrased by Stuart Dredge of Music Ally: "But if something emerges that is not about 'AIs making music for humans' but about 'teenagers using AI tools to make music for one another', then there will be no shortage of meaning, and cultural connections."
Pirate's cove
On Discord with the boys scalping Harry Styles tickets 👨‍💻
A look at online ticket scalping communities that exist on Discord. It tells a story of how they use analytics, share knowledge, provide support for each other, and how scalpers moved into ticket resales because the space of sneaker reselling was getting too competitives.
Who's hacking your Spotify? 🎚️
The fact that users' Spotify accounts get broken into and login details sold online is nothing new. Nor is the fact that these accounts sometimes get added to botnets used for fake likes and plays. This piece by Jonah Bromwich has a refreshing angle focusing on the relation between the hacker and their victim.
"Someone from Bosnia hacked my Spotify so I translated songs with their language with a lot of cuss words and blared them on their speaker. That was my petty fun for the week."
Fun. What you should also do is:
Change the password to your password manager in case it's been compromised. If you don't have one, get one. There are great free ones like 1Password or LastPass.

Change the password to your email account in case it's been compromised.

Change the password to your Spotify account.
The article mentions people being hacked repeatedly, which suggests that that they may be compromised at a higher level than just the account in question.
Data of 21 million Mixcloud users put up for sale on the dark web 🔐
Emails, usernames, and strong-hashed passwords sold for $2,000.
Annecdotes and projections
David Weiszfeld (Soundcharts) interviews Keith Joplin (MIDiA Research) 💙
It's rare that I put on a podcast or watch an interview: I prefer to listen to music and read instead. This talk between David and Keith however is excellent and I was happy to mute my tunes for an hour to go deep into the five trends changing music marketing.
A correct history of music streaming 👩‍🏫
An excellent look at how the dominant music streaming models emerged by the Penny Fractions newsletter.
Music & hacks
Simple pitch: create Spotify and Apple Music playlists from live sets, DJ mixes, and concerts on 1001tracklists.com, livetracklist.com, and setlist.fm. Awesome project by Ali Haghani.
Tiësto - Adagio For Strings (Happa Remix) 🤯
Came across this amazing deconstruction of the Tiesto / Samuel Barber classic by way of HDMIRROR. Not for the faint hearted.
❤️ twitter - musicxtechxfuture.com - linkedin
Regular insights about the future of music, media & tech. Written & composed by @basgras.
If you don't want these updates anymore, please unsubscribe here.
If you were forwarded this newsletter and you like it, you can subscribe here.
Powered by Revue