✖️ Announcing MUSIC x GREEN: directory for a greener music business 🚀🌱
Hi everybody,
I am delighted to share my new project with you: MUSIC x GREEN.
After some struggle to get an overview of what initiatives, projects, and research exist to make music a more sustainable industry, I decided to build something myself: a directory where I hope to log as much relevant items as possible, with the help of submissions.
Have a look at what's on there, try out the different filters, and let me know what you think by replying to this email or sending a tweet.
Love,
Bas 🎅
More details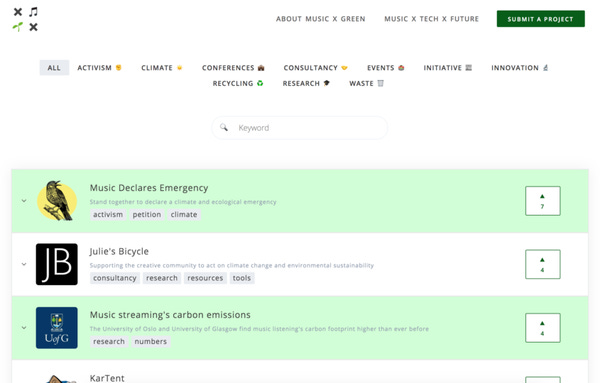 Introducing MUSIC x GREEN: directory for a greener music business
Posted a longer write-up on the MUSIC x TECH x FUTURE blog.
It talks a lot about the why.
Also, I managed to get this 85% launch-ready in an afternoon. If you want to know how, then check out the piece.
www.musicxtechxfuture.com • Share
Streaming: Spotify social, design, TikTok
Spotify working on a new social feature?
Jane Manchun Wong, who reverse engineers products to find hidden or upcoming features, found out Spotify is testing something called 'Tastebuds' which allows for social music discovery.
I certainly hope they launch this. Most of my social music discovery is via Bandcamp, Soundcloud, and Instagram. Making it possible from right inside of Spotify would be amazing and something I've been waiting for, for years now: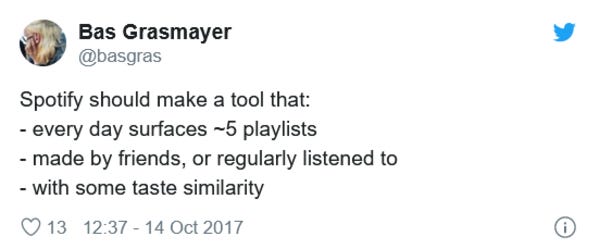 Reimagining design systems at Spotify
Spotify recently introduced a new design system called Encore, which lets them keep their visual language and user experience consistent across over 45 different platforms, from fridges to smart watches to your desktop.
The reason why I'm sharing this is that designers and product managers give shape to our music experiences. They're not well-represented at conferences or in music business dialogue, and as such their strong influence on the future of music is nearly invisible.
We've tested Bytedance's Resso app: here are our first impressions
Music Ally published some takeaways of the Bytedance (parent company of TikTok) music streaming service Resso. Great to hear about a streaming service doubling down on social:
"Along with liking a song, you can share it and its lyrics. The lyrics-card sharing feature allows you to add more lines of the text, choose fonts and change the backgrounds from a selection of images tagged Mood, Hot, Tune and Scene. You can comment about the song, which turns Resso into part social-media tool, and you can create and share 'vibes', which is where the app resembles TikTok. A vibe is a gif, image or video clip that automatically runs in the background when you stream a tune."
See you next week
All I Want For Donkmas Is You by DJ Eugene McCauley
This donk twist of Mariah Carey's classic. If you're into this stuff, follow my pop twists playlist on SoundCloud.
This week is a shorter edition than usual. See you next week for a round up of 2019 and a look at the challenges for 2020.
Happy holidays! ✨
❤️ twitter - musicxtechxfuture.com - musicxgreen.com - linkedin
Regular insights about the future of music, media & tech. Written & composed by @basgras.
If you don't want these updates anymore, please unsubscribe here.
If you were forwarded this newsletter and you like it, you can subscribe here.
Powered by Revue