#5: Don't broadcast: how to make social media fun | MUSIC x TECH x FUTURE
Hey everyone,
Thanks for the replies, recommendations and all the new signups. This week I'm tackling a question I find myself answering on a weekly basis. Next week it's time for a wider angle again.
Last week some people reported an issue with the formatting, resulting in a lack of blank lines between paragraphs. Should you have this issue again, please let me know so I can get it fixed.
Here's your soundtrack. Enjoy!

Bas
P.S. Should you know someone who should be on this list, forward them this link or email. To share this edition to social media, you can use the buttons at the bottom of this email.

Don't broadcast: how to make social media fun
To anyone who has ever propagated that artists should spend more time connecting with their fans, the following counterargument should sound familiar: "Artists are good at creating, they don't want to bother with social media, why should they bother with it?"
As much as I love speaking in hyperboles, I have to resist branding this statement as bullshit. There's actually a valid point in it. Particularly the middle segment is important to address, because I firmly believe on focusing on what you're good at and love doing and strongly encourage everyone to find their Ikigai.

First I'll address the latter part of the question: why should artists bother with social media if they don't like it? The key is to stop seeing yourself as a "creative" and to understand that you are an entrepreneur. Thinking like an entrepreneur is the only way you'll be able to define your career as an artist on your own terms, with integrity, passion and without being exploited.
When you think like an entrepreneur, it means you have your goals (like making as much as exciting music as you can) and are undertaking activities that ensure you'll be able to best accomplish those goals. This might mean admin, publicity, or raising money - at least until you're successful enough to be able to establish a team. This is why artists absolutely should bother with social media: in this networked age you're competing for attention and the best way to ensure you are heard is to stay top of mind. Just ask YouTubers.
Reluctant? Still think it's tedious? I get it. Maintaining multiple social media channels requires consistency and some dedication and it can easily start to feel repetitive. This means you need to make it really easy for yourself. But how do you make it fun?
You make social media fun by learning to lead your tribe. The reason why it becomes boring is because it's dull to the point of soul killing to have to broadcast the same things over and over again. Especially when you don't know if anyone actually cares. So don't broadcast. Understand that there are people who believe in you and your music. Start talking to them. If nobody reacts to your social media messages, then start writing people directly via tweets, emails, etc. Don't spam them. Remember: no broadcasting! Instead, try to figure out who they are, what they're interested in, why they like your music, how they found it, etc. Get a clear picture of who your fans are.
Don't broadcast; keep your fans involved. Let them know what inspires you, what you're working on, what's going on in your life, what you think is beautiful. Let them know what other fans are up to. There's nothing quite as effective as showing people that they are part of something, than shining the occasional spotlight on tribe members.
Then social media becomes fun. Instead of posting stuff to anonymous people and counting clicks, views and likes, you're now sharing things that are important to you, to people that are important to you. Don't get too uptight about it, keep having fun. If you want to post a picture of a horse with a duckhead, then post a picture of a horse with a duckhead.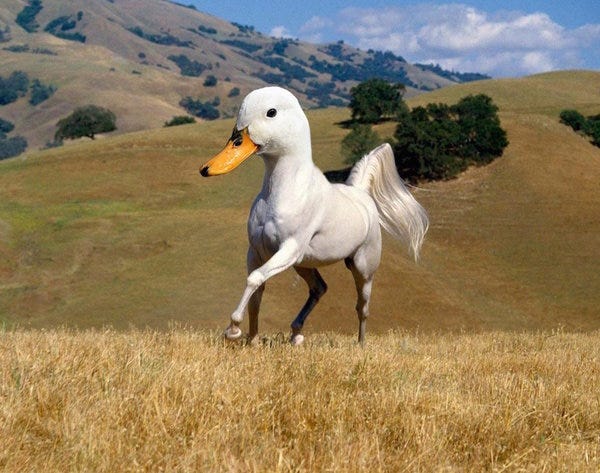 It's called a dorse
Seriously, don't be a perfectionist. Screw all the guides. Just have a lot of fun. Why should there be rules to how you should interact with your tribe? Understand who they are and do what feels right, do what feels fun.
Social media
Lifehack: how to become your own social media editor
An article I wrote last year about an easy way to set up an information funnel and posting method, to take the pain out of finding interesting stuff to share on social media and keeping the conversation going. This is basically how I manage my Twitter feed.
The big communication secret of successful artists
A nine-minute read on what your project needs to reach the top. And stay there. (thanks for sharing this, Mathieu)
How to make sure your band is discoverable online
Questions the value of focusing on SEO and instead suggests the basics with which you should build up your social media presence.
How Snapchat built a business by confusing olds
In-depth piece on how advertisers, media and personalities are using Snapchat. Goes into some of the economics as well as the concerns they have.
The online music landscape
Three things the music industry should learn from Bitcoin about disruption
Technologist Bryce Weiner counters some of the blockchain optimism with a dose of skepticism: "simply because your royalty split is on a blockchain, that doesn't mean the publisher or online distributor isn't still taking the lion's share."
Music's role in digital content is small and shrinking
Great analysis of music's role in the digital landscape. "The reality that must be accepted is that sooner or later, recorded music's diminished revenue footprint is going to catch up with it."
musicindustryblog.wordpress.com • Share
How a licensing deal between Merlin and Pandora cast a tall shadow over new webcasting rates (US)
Two licensing deals – one by a group of independent labels and another by a major label – had leading roles in determining what Pandora, iHeartRadio and other webcasters would pay for the music they play.
The state of music distribution in China
One of the most thorough articles I've ever read about the realities and challenges of the (digital) music business in an emerging economy.
Closing thoughts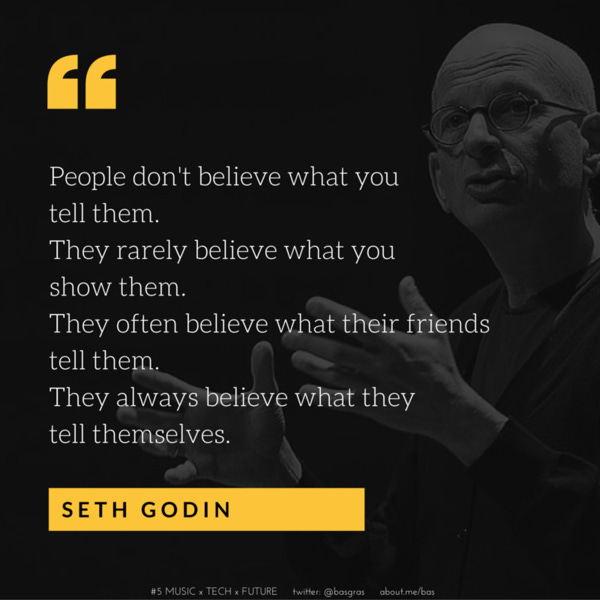 Thanks for reading. If you want to support this, consider retweeting this tweet - it helps your followers subscribe to MUSIC x TECH x FUTURE with just one click.
P.S. If you work in music & tech, consider joining the Music Tech Network on Slack.

Regular insights about the future of music, media & tech. Written & composed by @basgras.
If you don't want these updates anymore, please unsubscribe here.
If you were forwarded this newsletter and you like it, you can subscribe here.
Powered by Revue