Discover more from MUSIC x
Regular insights about the future of music, media & tech. Team: Bas Grasmayer (founder / Tuesday editor), Maarten Walraven (Thursday editor).
Over 5,000 subscribers
#46: Music biz trends in 2016 🔑 | Monetizing video messaging 📱 | Streaming startup challenges 😫 | Understanding AI 🤖
Hi everybody,
It's time to start wrapping up the year… and I did exactly that for Synchtank, looking back at some of this year's key trends.
This week's other lead piece is about the convergence of 2 trends: live video streams, messaging apps and the business models they enable.
See you all next week.. On Monday, as usual!
Happy holidays from Holland.
Love,

Bas
From me, for you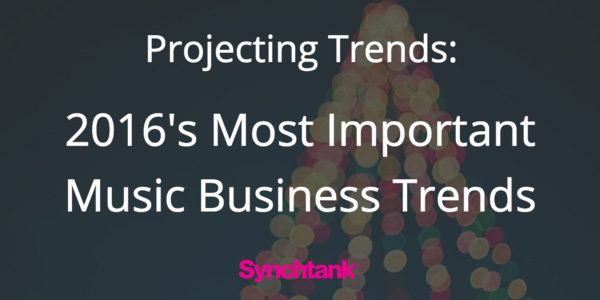 A round-up of some of this year's key trends in music tech.
Monetizing virtual face time with fans
How the convergence of 2 trends opens up new business model opportunities for artists.
Digital music space
Independent radio and the challenges of streaming music – 8tracks blog
8tracks founder David Porter explains the difficulty of building a music streaming startup.
Interactive vs. reactive vs. generative media
An explanation of the 3 types of adaptive music with a bunch of examples. Also note that Brian Eno's new album will be generative and will thus be infinitely long.
Music crowdfunding platform Tradiio raises $600k through crowd investment
The platform started as a game where you would speculate on music like the stock markets, with virtual currency. Now, Tradiio lets fans crowdfund artists through monthly subscriptions.
Beyond digital
How Spotify economist Will Page figured global music copyright business worth $24.4b
The number doesn't include the live music business. Check article for more exact revenue breakdowns.
www.musicbusinessworldwide.com • Share
Building Ujo #1: from the technical underground to the future
Ujo's technical design lead explains the current blockchain for music landscape using underground genres as an analogy. Easy to understand, yet insightful.
The challenge of organising a gender-balanced conference in the music industry
Lara Baker talks about her experience of trying to make AIM's Indie Con's line-up exactly gender-balanced. Not easy.
www.huffingtonpost.co.uk • Share
Wide view
The fourth industrial revolution: a primer on Artificial Intelligence (AI)
Great introduction to AI, machine learning, and other buzz words you'll be hearing a lot more of in coming years.
AI and the future of design: What skills do we need to compete against the machines?
Discusses the importance of social and creative intelligence in a future run in large part by artificial intelligence.
Inside Pluto VR: first look at this Seattle startup's communication platform for virtual reality
VR didn't exactly live up to its hype this year, with a chicken & egg problem regarding content & disappointing sales… but it's a development that's here to stay and it's important to consider some of the applications.
Pluto VR's doing something very similar to what Facebook is doing in VR. It wants to be able to put people in the same place, wherever they are. One economist believes this will be the most disruptive phase of globalization.
If you know someone who should definitely be on the MUSIC x TECH x FUTURE list - forward them the email or signup link.
❤️: twitter - linkedin - facebook - musicxtechxfuture.com
📰: click here for last week's edition about fan remixes & content strategy
Regular insights about the future of music, media & tech. Written & composed by @basgras.
If you don't want these updates anymore, please unsubscribe here.
If you were forwarded this newsletter and you like it, you can subscribe here.
Powered by Revue