#40: Moving beyond static music 🕹 | Livestreaming revenue 🤑 | Make music in your browser 💻 | More on bots 🤖 | Mixed reality 😮
Hi everybody!
This week's overarching theme is interactivity. Whether it's about engaging with music directly, with artists through messenger apps or bots, by gifting during live streams, or in the new frontier of mixed reality, enabled by innovations in virtual & augmented reality. Read on!
Add to calendar: I'm speaking about digital revenue streams at Play & Produce in Ghent, Belgium on the 19th. Ping me if you're around.
Enjoy!
Love,
Bas
From me, for you
Moving beyond the static music experience (Projecting Trends - Synchtank)
Taking a look at the changing role of the consumer, the ways in which music is evolving, and some of the business models attached to it.
10 lesser known tools for making music in your browser – MUSIC x TECH x FUTURE
Something light this week: 10 tools to quickly build a beat, for when that creative urge strikes.
Bots!
I think it's important to highlight what's happening in 'bots'. The best way to actually look at them is as apps that live on top of messaging platforms, like Facebook Messenger. They reach consumers (and fans) where they are, without having to get them to install anything.
On demand: the art and science of the music chatbot
Cherie Hu: "Chatbots could be the next big wave in the automated music craze, streamlining and personalizing conversations and transactions with music fans on an unprecedented scale."
A rant about chatbots from annoyed millennials.
Of course, a lot of people are trying to get in on the action and end up making silly stuff with no function. Here's a rant aimed about what 'chatbots' should not be. (via Syd Lawrence)
Twitter introduces customer service bots in direct messages
Logical step. For many, it's the first place where they'll reach out to a company. Automating this with intelligent bots, in order to speed up the process, can be a great thing if done right.
Also, think of what you can do for fans. If a fan asks: "when's your next show?" You can check the information about their location and immediately inform them about your nearest show. Bots will help artists to be more proactive, and more efficient, as long as they can get all their data in the right place.
Music & Money
Musical.ly live-streaming stars are earning thousands of dollars from adoring fans
Interesting story about how Musical.ly stars are using the add-on app Live.ly to livestream to fans and create revenue through virtual gifts. Read my recent article about this topic: Are donations becoming a viable part of artists' business models?
YouTube is still having trouble getting people to pay for YouTube
Not just about music, but content monetization in a wider context. Only 1.5 million users converted to subscriber.
Why is YouTube Red struggling to add subscribers?
Some analysis by MIDiA, which notes: "Creating a $180 million revenue generating SVOD (subscription video on demand) service in 12 months would be a huge win for any company other than Google."
Light at the end of the funnel: why the marketing revolution is about to arrive
"Blessed is he who, in the name of profit, shepherds the user through the funnel, for he is truly his user's keeper."
- Startup L Jackson
Detailed look at the state of conversion funnels in marketing and what it means for brands, agencies, platforms, media, and consumers. It's so essential for people in music to understand how the landscape is evolving. Read this.
¯\_(ツ)_/¯
Too many startups like playing startup
I often tell music companies to think more like startups… But sometimes it's startups that have to be told to think less like startups. 7 signs that you're focused on stuff that doesn't matter, and how to snap out of it. (via Tim Heineke)
Inside Magic Leap, the secretive $4.5 Billion startup Changing Computing Forever
Interesting read about Magic Leap's vision for augmented reality and mixed reality. Mixed reality meaning that the digital and non-digital layers of our world can start interacting, and blend together. Gives a peek into how radically media, and our world, is going to change over the next century.
5 tricks/tips to get your demo heard (by e-mail)
Sebastien Lintz, digital manager of Hardwell as well as label manager of Revealed Recordings, explains how to get your demo heard when approaching labels over email.
Biggest ever study of its kind shows 71 percent of musicians experience anxiety and panic attacks
As part of their Music and Depression campaign, Help Musicians UK have published a striking insight into mental wellbeing in the industry.
And we end with music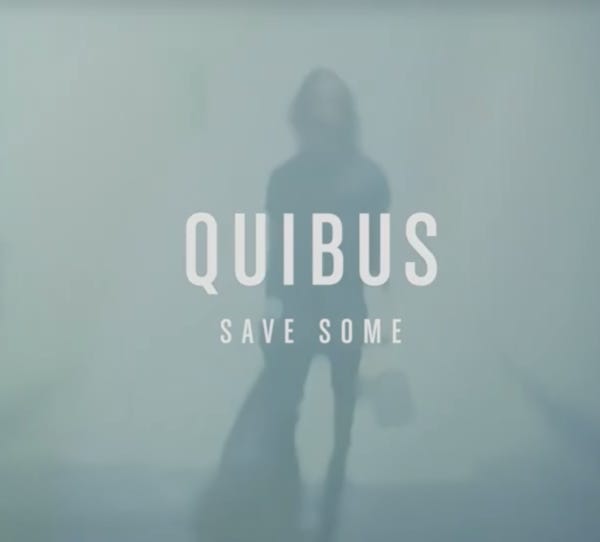 Go check out the brand new debut video by Quibus. Excellent bass-driven, 4x4 melancholic tune.
Buy / stream the EP here. You can do us a big favour by sharing it.
If you know someone who should definitely be on the MUSIC x TECH x FUTURE list - forward them the email or signup link.

❤️: twitter - linkedin - facebook - musicxtechxfuture.com
📰: click here for last week's edition about Spotify Daily Mix as a standalone & more
Regular insights about the future of music, media & tech. Written & composed by @basgras.
If you don't want these updates anymore, please unsubscribe here.
If you were forwarded this newsletter and you like it, you can subscribe here.
Powered by Revue