#39: Spotify Daily Mix as a standalone product 📲 | Music, AI & copyright 🤖 | Data: media in 2017 🔜 | 75% mobile internet use 🤳
Hi everyone,
This week I take a wider angle than usual in these mailings, since there are a number of trends in tech that I think are more important and more interesting than the music biz writing this week.
No trivial stuff. Only the important topics that point to the future.
Today's lead piece has me thinking about Spotify's incomplete Daily Mix feature and how it may signal a multi-app, multi-price point product strategy for the streaming service.
Enjoy!
Love,
Bas
From me, for you
What if Spotify turned Daily Mix into a standalone product? – MUSIC x TECH x FUTURE
Implementing the obvious missing feature, offline syncing, could point towards a new strategy for Spotify. As it's heavily discounting to onboard new users, we could see Spotify embracing a new product strategy with multiple price points.
Daily mix as a standalone could be a good first step.
Music Reads
The musical Twitter bot: who has the copyright for AI-facilitated works?
As music created by artificial intelligence engines becomes more prevalent, the interesting discussion is: what about the copyright?
Hit Charade: the bald Norwegians behind the chart topping pop songs
A look into the craft of songwriting, artist branding, and plagiarism. While transparency slowly increases, it's interesting to see whether fans will care.
Apps to keep you in tune with the times
Stuart Dredge's list of 20 music apps you should check out, besides the obvious music streaming services.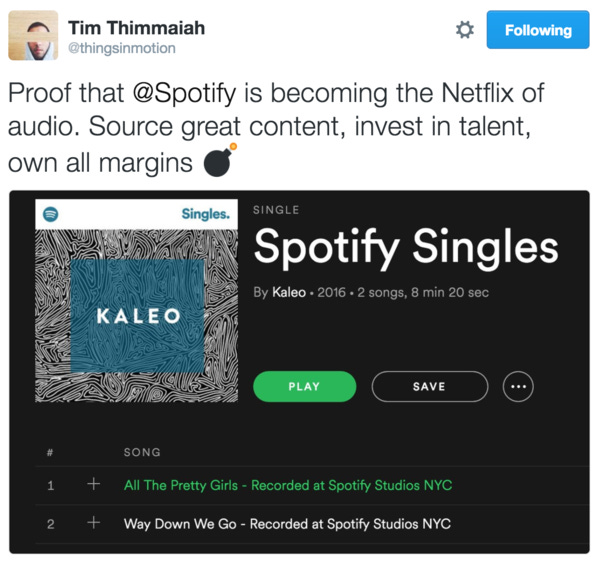 The founder of Toneden comments on streaming services that are starting to act as labels. My thoughts about the topic are on the Synchtank blog.
Daedelus invites you to remix his 3D 'Labyrinths' album art
Remix and expand the 'Labyrinths' album with an interactive, real-time music player. Great work by Whitestone!
thecreatorsproject.vice.com • Share
Resonate - a cooperatively owned streaming music service
Resonate is running a crowd-ownership campaign to raise funds. Have a look at their coverage by Music Ally.
Inside the design process of MTV Trax
A designer talks about creating MTV Trax, a mid-tier price music streaming subscription service.
Media Reads
Epic forecasts from Michael Wolff on the digital media landscape. Via the Exponential View newsletter.
www.businessinsider.nl • Share
What the death of Vine means for super short form video
What Vine's sudden death means for super-short form and Twitter. Also, it will be interesting to see where users migrate to. More on Vine: Who Killed Vine? What Could've Saved It?
25 of VR's greatest innovators
Great look into the history of virtual reality. Good to get inside of the minds of the creators and get a grasp of the medium and its promise.
Why Facebook and Microsoft say chatbots are the talk of the town
Software programmed to interact with humans is hot property in Silicon Valley, with potential benefits for businesses, consumers – even the bereaved.
I'm going to be doing a lot of writing on chatbots and music soon. Stay tuned.
Tech Reads
Google's AI creates its own inhuman encryption
What happens when you tell two smart computers to talk to each other in secret and task another AI with breaking that conversation?
Zenith forecasts 75% of internet use will be mobile in 2017
Since your fans will be mobile-first, maybe you should get rid of your laptop for a week and see what it's like to interface with the web on mobile-only.
An experiment suggested by Music Glue's Mark Meharry: try to buy a ticket to a show, a piece of merchandise, and an album from the same artist (eg. yourself or one you represent) on a mobile phone in under 30 minutes. Without wanting to smash your phone.

Lastly, I wanted to say congratulations to We Make Awesome Sh for winning the Music Ally award for their project they did with Greenpeace. Protest music is not dead. It's just the medium that's shifting.
That's all for this week. That's all for this edition. Music I'm listening to right now:
If you know someone who should definitely be on this list - forward them the email or signup link.

❤️: twitter - linkedin - facebook - musicxtechxfuture.com
📰: click here for last week's edition about ephemeral content & streaming services as labels
Regular insights about the future of music, media & tech. Written & composed by @basgras.
If you don't want these updates anymore, please unsubscribe here.
If you were forwarded this newsletter and you like it, you can subscribe here.
Powered by Revue