#34: Monetizing remix culture with Beatport's former CEO 💰 | Understanding the price of music 💵 | iHeartRadio 📻 | AI-composed music 🤖
Hey everybody,
Last week I had a very interesting conversation with Matthew Adell about his remix monetization platform, MetaPop. Keep reading!
I also wrote a piece for Synchtank about why music is priced the way it is.
Have an excellent week, everyone!
Love,
Bas
Monetizing remix culture: Beatport's former CEO about his new mission

Matthew Adell about founding MetaPop and the surprising amount of money being left on the table by artists & labels.

Click to read this article on Medium, or on MxTxF.
It's 2016 and artists still have to think like lawyers when working on remixes. As someone whose music consumption primarily exists of remixes and sampled works, this is a very personal pet peeve of mine. The topic is, finally, getting some attention beyond lawsuits and takedown notices.
Earlier this year, a task force from the US Department of Commerce presented their findings of a 2-year study, suggesting that a compulsory license is undesirable. Instead, it recommends that the marketplace be left alone to figure this out. An upcoming key player in this marketplace, is MetaPop: a platform that connects labels, producers and remixers, co-founded by former Beatport CEO, Matthew Adell. To date, MetaPop has signed on over 5,000 labels and helps them clear and monetize fan remixes.

I spoke to Matthew about how it got started, why remixes are so important, and the future of the remix landscape and MetaPop's place in it.
A year after selling Beatport to SFX, Matt decided to step down and take some time off. After some time spent relaxing, he started looking for a new challenge, asking:
"What is not getting solved, because people just think it's hard?"
This question formed the basis of Matt's search for intractable problems in the music business. Having always had an interest in derivative works he decided to investigate this problem, because "especially in music, we've seen the behaviour of people making remixes without authorisation really become explosive," indicating that remixes account for 10% of all music listening on YouTube.

To find this out, he teamed up with Michael Mukhin, former CTO of Boomrat, and built a piece of technology called Remix Finder. The purpose of the technology was to understand derivative works online. To start, they created a huge index of remixes, mashups and DJ sets on YouTube. The index contains track information, metadata, and engagement metrics, and over time they could also start seeing the speed and frequency at which these derivatives were taken down. If at all.

"What we learned is while mashups have hits every now and then, there aren't a lot of mashups that generate a tremendous amount of engagement on YouTube. DJs have some of the tastemaker names in the world, but we found that other than after-movies from really big festivals, DJ sets weren't really generating that much engagement on a global scale. The work that was really generating the most engagement, and was leaving the most possible revenue on the table, was what we call the single-song remix."
So as a starting point, they honed MetaPop's technology on single song remixes and found that they're better at finding single song remixes than YouTube's Content ID tool. On YouTube alone, they identified over 8 million remixes that are currently not monetized for the original artist nor the remixer. This could mean hundreds of millions of dollars currently being left on the table, because according to MetaPop just 2.5 million of those fan remixes generate over a billion plays per month.

"So, we have built a system now that allows rightsholders and remixers to come together on our platform to authorise and monetise all of these fan remixes."

The platform is intended for all genres. In fact, they found that country music is one of the more popular remix genres on YouTube. But why should artists care about remixes in the first place? Matt explains how back in the day, one would have to press vinyl bootlegs to get remixes out there. It was a slow process.

Now music has become part of a constant flow of social media. As a musician, it's nearly impossible to create enough music to feed this constant flow by yourself, he explains. For remixers, it can help them get noticed, and for the original artist it means an expanded fanbase, and increased revenue.

It makes sense. If you make country music, and someone makes an EDM remix of your track, suddenly you're reaching another demographic that you otherwise wouldn't. MetaPop's revenue split, 70/15/15 to the original artist, remixer and MetaPop respectively, can form a great incentive to monetize remixes, as opposed to taking them down.

If it's so valuable to artists and there are hundreds of millions of dollars on the table, then why has nobody cracked this before?
"It wasn't solved before, because there was no money. And it's complex. Each country has its own laws for how to deal with derivatives." The rise of streaming means that now there suddenly is a way to monetize. You wouldn't be able to track the vinyl bootlegs and monetize them, but with all the music platforms out there now, there's suddenly a lot more data.

Matt also understands that older generations of original artists were more wary of remixes, but this is becoming less the case today.
In the next 10 years, he expects remixes to become even more prevalent, because the software and hardware necessary to create them is becoming ever-accessible. In this landscape, we'll see much less takedowns than we do today, with there being more systems in place to monetize instead. This is where MetaPop's place is, as a rights-clearing house for derivative works.

There's still a long road ahead. The team currently consists of 5 people, with all the technology being built by 1. The thousands of labels, remixers, and original artists they've managed to attract and host is an impressive feat, and testament to many years of experience the team has throughout music & tech.

MetaPop's currently in the process of raising a Series A investment round, so that they can start going global and bring in more music from more places. Besides single song remixes, they want to expand their footprint to cover other forms of derivatives, too, like mashups. The goal is, quite simple: to be able to monetize derivatives more widely and more efficiently.

Are MetaPop going to be able to crack this problem? Matt is confident.
"Nobody else has the right mixture of experience, tech and relationships."
Personally, I'm happy to see people cracking away at this problem, because its importance is underestimated. There are 2 trends that make it urgent to create a legal base for derivative works:

Adaptive music: generations are growing up expecting interactivity from everything in their environment. This is the generation that is growing up trying to swipe magazines, televisions and windows, believing they should be able to interact with it. Their music is going to be adaptive to fit the situation and whims of the listener.


The remix is the internet's language: whether it's attaching a gif to a tweet, changing the caption on a meme, or filming yourself playbacking on the wildly popular Musically, we use the remix to express ourselves now. Music genres are increasingly behaving like memes: they often start with remixes by bedroom producers giving existing tracks another twist. Take vaporwave, moombahton, nightcore or even edm-trap as an example.

This is the way people interact with music now. The world shouldn't have ignored the inner city kids sampling in the 80s and 90s to create hiphop, but now there's just no getting around it.
Remixing is the new default.
Matt and I are both speaking at Amsterdam Dance Event (19–23 Oct).
Come see us.
From me for you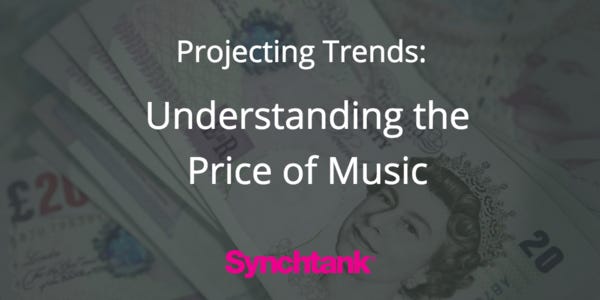 Click image for article
My latest piece on the Synchtank blog, in which I look at the past, present and future of pricing digital music.
Digital Music Space
China
¯\_(ツ)_/¯
Music
Something for your ears. Here's what I've been listening to this week. Top 3 recommended to me by Jelle.
Amsterdam Dance Event
I'm speaking at ADE. If you're going to be in town, drop me a line. I'm still figuring out accommodation options. If you have extra space, or want to split an Airbnb, let me know.
That's all for this week. If you're interested in writing for MUSIC x TECH x FUTURE or need help with your digital strategy: get in touch.

Love,
Bas
❤️: twitter - linkedin - facebook - musicxtechxfuture.com
click here for last week's edition about music curation & discovery tools
Regular insights about the future of music, media & tech. Written & composed by @basgras.
If you don't want these updates anymore, please unsubscribe here.
If you were forwarded this newsletter and you like it, you can subscribe here.
Powered by Revue