#33: Music curation food chain 🍔 | Discovery tools 🎶 | Universal & Sony's new app 📱 | Loads more
Hey everyone,
Another extensive edition, with three articles from my hand and a selection of this week's most important and thought-provoking pieces. Enjoy! Tell a friend. Have a great week!
Love,
Bas
Moving up the music curation food chain
Time for a quick lesson in free publicity. The increase of easy access to information and entertainment, combined with the democratisation of creation thereof, have led to the need for curation.
As an artist, you want to get your music noticed by curators, so it gets spread around further. But how do you get them to give a damn?
CURATORS FOLLOW CURATORS
How do you think curators get their content? They follow other curators. It can be the DJ getting selected tracks from a trusted label rep, or a blogger learning about new releases through a mailinglist.
The easiest way to get noticed by top curators, is making sure you get noticed by smaller curators.
You have to be consistent about it. People have to see your name a few times before recognising you. Only then will they start giving a damn. How you do this depends on the category of music curation.
It will take time. It can be a year if you work hard at it – or even longer. If you don't work hard at it, it will never happen, unless you hire someone that already has the network.
THE CATEGORIES OF MUSIC CURATION
The actual dynamics differ from category to category, but the basic jest is that you start small and try to move up the curation food chain. Follow the curators who you want to be noticed by closely, so that you can figure out where they get their music from.
Some domains to think of:
Radio airplay: start with local and genre-specific, and slowly work your way up. This is probably the slowest process of all, since nationwide airtime is highly valued.


Genre-specific publications: there are dozens of decent publications and blogs per genre, perhaps a bit less for younger genres.


Location-specific publications: can even be location/genre-specific, like a local rock magazine.


Channel curators: think YouTube, Soundcloud.


Theme publications: these are similar to genre publications, but generally broader. Might also report on fashion, or a certain set of genres and sounds that can be loosely grouped together.


Live DJs.


Playlist curators.

There are plenty of other areas to explore, but if you've never really thought about this topic, then these are a good place to start.
THE MUSIC BUSINESS IS A NETWORK BUSINESS
You have to build your connections. Start with the more approachable curators. You can find them at events or in online communities like Facebook groups or Reddit. Your music might be really, really good, but when you hit the inbox of a curator, chances are it's going to look like just another promo. They might not even listen to it.
Be creative about it, like these guys who wanted to get noticed by a prominent DJ in their genre: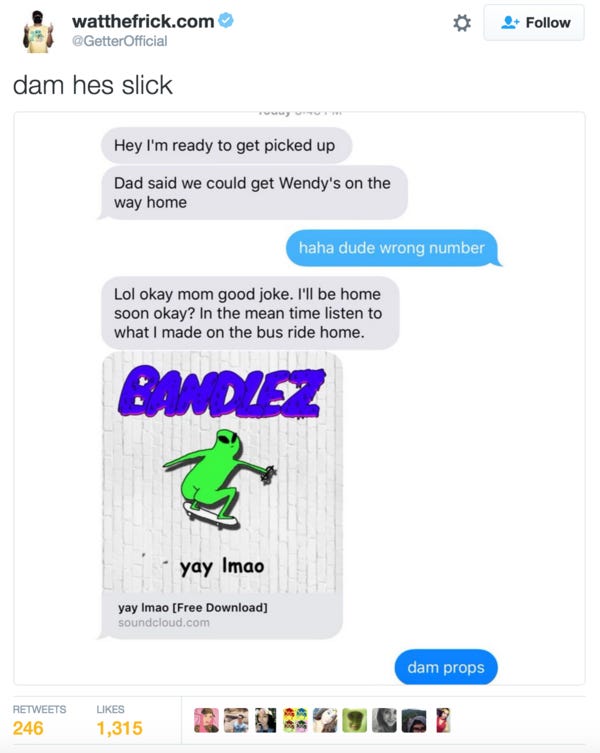 If you're intent on being able to arrange your own publicity, then check out the books Made to Stick and Contagious. They're great books for learning how to construct strong stories to communicate ideas.

And a little hack: get a free Hubspot account, so you can see when people open your emails and whether they've clicked your links. It will help you to determine where you're succeeding or failing, and adjust accordingly.

More MUSIC x TECH x FUTURE
10 lesser-known tools for music discovery
Rounding up some interesting music discovery concepts.
www.musicxtechxfuture.com • Share
Why nobody cares about your free download
Many artists are getting free downloads wrong. Here's how to do it right.
www.musicxtechxfuture.com • Share
All articles get cross-posted to the MxTxF Medium publication.
Data
Have Spotify and Apple Music just won the streaming wars?
Spotify has just delivered 2 landmark data points: 40 million subscribers and $5 billion paid to rights holders to date. This means that Apple Music & Spotify hold well over half of the global streaming market and are still growing rapidly.
musicindustryblog.wordpress.com • Share
The most Shazamed songs – tracked by the second
Interesting look at Shazam data, and at what parts of a song people 'Shazam' it. This varies a lot per genre.
Streaming sales rise 49% to drive UK music industry
Music streaming services saw revenues grow 49% to £251m last year, as a new report suggests the UK music industry has several reasons to be cheerful. In Sweden, streaming accounts for nearly 86% of the recorded music market.
www.campaignlive.co.uk • Share
Differences between Pandora and Spotify users (PDF)
A report from May 2015 about the differences between the services' users. Full of demographic data, social media usage, lifestyles, brand info and more.
The Digital Space
EU takes a swipe at YouTube's safe harbour
Mark Mulligan: "A clash of commercial world views that is not going to be fixed be legislation."
Universal and Sony team-up to launch their own low-price streaming service
A £4.99/month app with the latest hits and access to old hits featured in the catalogue of Now compilation albums. You can save 100 tracks offline. Interesting price point, but if they really want to target mainstream listeners, they need go all-in and drop the price to £3.99 or, better, £2.99.
Chew adds monetization options
The livestreaming for DJs platform now allows gifting: virtual goods with monetary value. In case you missed it: the MxTxF with Wil from Chew.
The Netflix backlash: why Hollywood fears a content monopoly
The streaming service is spending $6 billion a year on content, choking basic cable and brusquely rattling the relationship business of the town as fears of a Google- or Apple-sized dominance send a chill down the entertainment industry's spine. Could this happen in music, too?
www.hollywoodreporter.com • Share
This image perfectly illustrates how Spotify are getting it wrong
Darren Hemmings: "Democratising playlists only works if said democracy is applied across all aspects of the system."
Why people pay for subscription entertainment services
Karen Allen: "People pay for premium content when it replaces an existing behavior at a lower price and with equal or greater convenience."
Spotify is said to seek reset in negotiations with record labels
"Spotify has proposed reducing its royalty payments by providing additional data and promotion to artists."
How playlists & utilitarian music listening are changing genres
Pianist Neil Cowley's meditative tune Grace was steadily building interest in his jazz trio's new album release… then a digital rocket went off.
Entertain Your Senses
Google's VR painting app now responds to music
New tools make it easier for artists to create audiovisual experiences. It also sheds a light on future ways for fans to engage with music.
This app is like a radio that produces original music in real time
Regular readers will know I have a thing for generative and adaptive music. Mubert is a generative music app (also on web) that creates music in specific genre styles.
The Ship Project presented by Brian Eno
A music video for "The Ship" generated by a custom made machine intelligence.
Synthwave further listening for fans of "Stranger Things"
I can't be the only one who thought "where do I get more of this cool music!?" after watching Stranger Things. The excellent Bandcamp blog has some music to fill that gaping void.
This 1994 line-up of East Coast Hiphop stars
Yo-Yo, MC Lyte, Naughty By Nature, A Tribe Called Quest, Fu-Schnickens, CL Smooth, Guru, Das Efx, Wu-Tang Clan, KRS-One & Mad Lion. How had I not seen this before!?
MxTxF Reader Spotlight
The Gaslamp Killer's new album gets a deluxe audiovisual experience with Whitestone
Whitestone's on a mission to reinvent the album. Check this out. If you have a spare monitor: set this to full-screen & enjoy!
JOB: Growth Hacker / Ad Manager at Dotted Music
The Dotted Music marketing agency is looking for a growth hacker / marketing / paid ads specialist. It's a remote function!
dotted-music.breezy.hr • Share
Amsterdam Dance Event
I'm speaking at ADE. If you're going to be in town, drop me a line. I'm still figuring out accommodation options. If you have extra space, or want to split an Airbnb, let me know.
That's all for this week. If you're interested in writing for MUSIC x TECH x FUTURE or need help with your digital strategy: get in touch.
Love,
Bas
❤️: twitter - linkedin - facebook - musicxtechxfuture.com

Regular insights about the future of music, media & tech. Written & composed by @basgras.
If you don't want these updates anymore, please unsubscribe here.
If you were forwarded this newsletter and you like it, you can subscribe here.
Powered by Revue