#30: How to make music sustainable 🌳 | Evolution of music discovery 💻 | 5 big ideas for indie music 💡 | Curated links, infographics & more 👀
Hey everyone,
What a week! Drama over exclusives, rumours of UMG banning them, mud throwing between streaming services. A definite exit from the summer calm.
I have something important for you this week. Particularly for members of the UK's Association of Independent Music. They asked members to submit 'big ideas' for the advancement of the UK indie scene. Now, I'm not a member, but whatever, I did so anyway. 3 ideas are under consideration and need a member to represent them. Here they are. Please get in touch with me if you'd like to adopt one of them.
For this week's lead, I decided to zoom out and focus on something bigger than industry politics. Something more important, to all of us.
Keep reading, enjoy, and have a great week!
Love,
Bas
The Urgent Need for a Sustainable Music Industry - and the Innovations that Make it Possible
Best read on musictechfuture.com or Medium.
Every month this year has been the hottest in recorded history. Our weather is getting increasingly unpredictable, leading to more storms and floods in some areas and extreme droughts and forest fires in others.
The importance of selling music, or solving problems in the music business, pales in comparison with these issues.
However, these are not separate. We are the environment and our actions affect it. You can bet that last century's vast record distribution networks made an important contribution to our CO2 output.
Can you guess how much of the CO2 footprint of a CD purchase comes from the ride between the consumer's home and retail outlet?
10%?
Bit more.
Try something like 20-30%.
Well..
Still wrong.
It's 50%.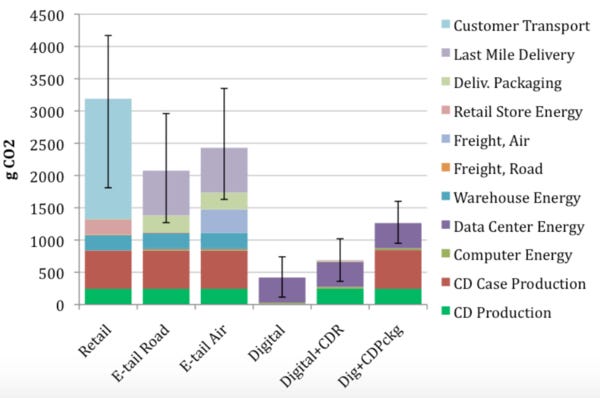 Comparison of six album purchase scenarios in GHG emissions (g CO2/album). Error bars represent 90% credible intervals from Monte Carlo analysis.
The good news is that consuming music digitally reduces the CO2 footprint of that music by 40-80%. So, sure, the decline of the CD brought a decrease in revenues for the overall music industry, but at least we get a less tangible benefit in return. And the industry appears to be recovering.

In economics, there is a concept called negative externalities which is defined as "economic activity that imposes a negative effect on an unrelated third party." Take the CD trade as an example. It imposed a large negative effect on consumers, since the taxes levied around transportation do not raise enough money to reverse the effects of the associated CO2 output.

There are many remaining negative externalities in the music business, but technological innovation can help alleviate problems. It's in our economic interest to care about these negative externalities. If we can prevent scenarios with cataclysmic weather events, consumers might be a little more relaxed to go see a gig, buy some merch, and spend money on music instead of sand bags to protect their house against a flood. I'm not exaggerating: floods in US coastal cities have more than doubled since the 1980s.

What innovations can solve issues around transportation, equipment, festivals, events & conferences? Continue reading on musictechfuture.com or Medium.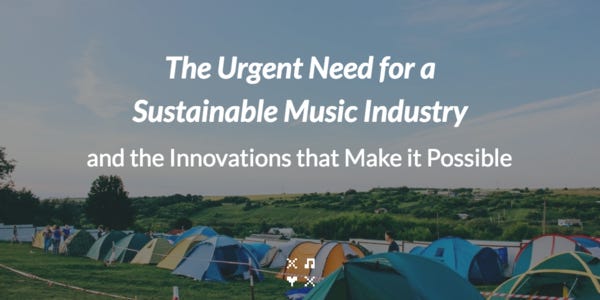 Click the image to continue
More MUSIC x TECH x FUTURE
I wrote a piece for the Synchtank blog about how pirate services like Napster and Soulseek changed music discovery and how licensed services pushed that innovation forward.
Click image for article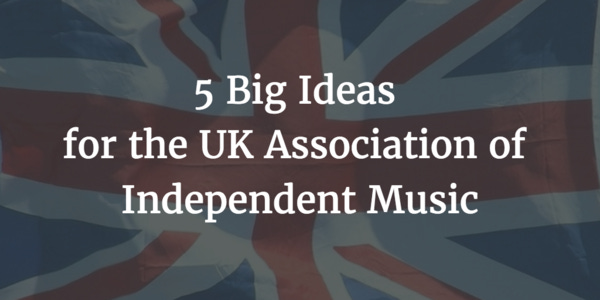 3 of them are in need of an AIM member! Get in touch with me.
Top stories this week
EU may require YouTube, DailyMotion to seek deals with music industry
Websites such as Google's YouTube, DailyMotion and Pinterest could be required by the European Union to seek licenses or revenue-sharing deals with artists for content that is uploaded by their users.
MetaPop service to monetise fan remixes on Spotify, Apple Music and Tidal
A new startup co-founded by one of the Beatport founders. Planning to talk to them soon and find out more about their plans and what differentiates them from Dubset.
Why remixing is going to become more and more important in the future of content and creativity.
What Frank Ocean's bombastic Blond moment tells us about the future of artists and labels
Frank Ocean has sparked a really interesting discussion on artists, labels, services and their changing relationships. Streaming exclusives is, of course, a big part of that. There are a lot of pieces and thoughts on this topic, but if you had to read just 1, it's this take by Mark Mulligan.
musicindustryblog.wordpress.com • Share
Spotify now has 39 million paid subscribers, up from 30 million in March
Spotify's global head of creator services, Troy Carter, reveals Spotify's new subscriber numbers and discusses Spotify 'inclusives', saying "exclusives are bad for artists, bad for consumers and bad for the whole industry."
Universal Music's streaming revenues 'more than offset' download and physical declines
The half-year financials of Vivendi, parent company of Universal Music Group (UMG), the world largest music conglomerate, indicate that the Paris-based media giant is a steady ship that's keeping an eye on the future.
10 things you need to know about streaming playlist data
Sammy Andrews, director of Entertainment Intelligence, on how to use streaming playlist data for your strategy.
Amazon set to enter streaming market with $4 service?
Amazon's reported to be looking to offer an ad-free on-demand streaming service that would likely cost no more than $4-$5 per month, but the service would run exclusively on Amazon's Echo smart speakers.
Twitch could be a $20 billion dollar company inside Amazon
When people think next-generation media companies, perhaps they think YouTube or Netflix, but I think Twitch. Netflix & YouTube's media production comes from strategic considerations, but Twitch makes use of trends, understood what people want and created a platform for them. It's spawning subcultures and is definitely something to watch, but might be a little hard to get into. So, here's some homework: pick a game you enjoy, commit to getting better at it (not great, just better), then dedicate some time every now and then to watch streamers explain how they play. Turn-based games, like Hearthstone, are probably easiest for this.
AR, MR & VR technologies give new dimensions to how we experience music
A breakdown of how augmented, mixed, and virtual reality are impacting music - already.
Worldwide revenues for augmented and virtual reality forecast to reach $162 billion in 2020
Up from $5.2 billion in 2016.
CNCO invites fans to play 'CNCOGo' & catch their new songs
I don't know if it's accurate to call CNCO the Latin American One Direction, but it's too late now, I've already said it. They encouraged fans to compete & catch their songs - and it seems to be going really well. It's a collaboration with music geocaching service Landmrk, which we covered before.
Blokdust - make synths, samplers & self-playing contraptions
I came across this tool on Reddit. Fun & beautiful way to turn Google Chrome into an instrument. Send me your best creation.
Infographic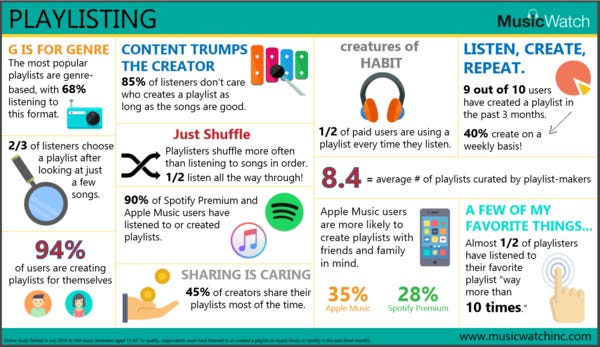 Click image for article
For the newsletter buffs
Cherie Hu's mailing on music, tech & creativity
A respected voice in music & tech, Cherie writes for publications like Forbes, and I was happily surprised to find out she has a newsletter. Check it out!
Closing thoughts
And I told myself I'd cut down on length this week… Well, maybe next week 😉
If you enjoy receiving these, you can do me a big favour by spreading the word. Here's a sign-up link. Thanks!
Love,
Bas
❤️: twitter - linkedin - musicxtechxfuture.com

Regular insights about the future of music, media & tech. Written & composed by @basgras.
If you don't want these updates anymore, please unsubscribe here.
If you were forwarded this newsletter and you like it, you can subscribe here.
Powered by Revue