#3 MUSIC x TECH x FUTURE: Monopolising Behaviour, Artists as Startups, Streaming's Future, and More!
Hello everybody!
Thanks for all your shares, replies, tips and sign-ups! It's so awesome to see these ideas spread and attract all kinds of people who are working on amazing music, products, and ideas. I appreciate you being a part of this. Let's invent the future together!
Bas
P.S. Should you know someone who should be on this list, forward them this link or email. To share this edition to social media, you can use the buttons at the bottom of this email.
Monopolising Behaviour in Music
One of my favourite concepts in design is the monopolisation of specific behaviours. It means that a service or product does something so well, that people only think of your service whenever they need to do that thing. The best example of monopolised behaviour is Google, which has completely monopolised internet search behaviour. It has done that to such an extent that we now refer to that behaviour as Googling.
When we look at online music, we generally see people competing for bulk behaviours, not specific behaviours. Every company wants to be your go-to music destination. The music discovery segment is especially crowded. The best apps in music discovery don't try to get people to engage in a whole new way of discovering music. Apps that do that usually fail. The most successful apps look at real world behaviour and figure out how to augment that, how to add value to that.
Do you know which apps I'm talking about yet?
SoundHound and Shazam. They are the best examples of two apps that try to monopolise the same music behaviour: identifying a song when you 'discover' it, so that you can listen to it later.
Internet radio seems like a specific niche, but it's not. People listen to radio for all kinds of reasons, which means there are a lot of behaviours surrounding it. People might want to listen to radio to discover new music or old music they forgot about or never heard before. People might want to listen to radio to just have something in the background or to have fun with familiar music. Every one of these is a specific behaviour that internet radio services all try to cater to.
Then we have the segment of the all-you-can-eat music streaming services like Spotify, Apple Music, Google Music, etc. I don't even know where to begin. There are library organisation behaviours, building playlists with friends, all kinds of sharing music with friends (and strangers), discovery, exploration, curation, commuting, active, passive… And pretty much all of the behaviours mentioned in previous paragraphs.
Now here's the truth about the status quo: it really sucks at addressing specific behaviours. Spotify is a good product, but it's not amazing for any particular thing, it's amazing because it manages to put everything together without becoming a weird Frankenstein piece of crap. Frankenstein's monster is a common metaphor in product management for referring to what happens to a product when random feature after feature is added. I digress.
Everyone wants to be the go-to music destination. This means it's relatively easy to build something that addresses a specific behaviour way better than the status quo. Take an existing behaviour around music, such as the behaviour we picked for our app Fonoteka at Zvooq, which was on-the-go listening of releases people are already acquainted with. Then work on ideas to extend, augment, or add value to that behaviour. It can be that simple.
Disruption in music is not about doing something better or bigger than everyone else, it's about doing something better and smaller.
So get to work. Think small, act big.
Keep reading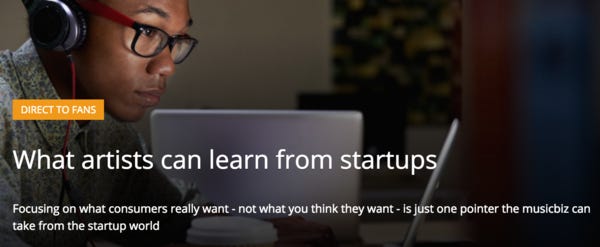 Bas Grasmayer: what artists & managers can learn from startups
My newest article, applying startup methodology to the business of music, is now live on the Midem blog.
Music & behaviour
This Sonos and Apple experiment demonstrates how music changes your behaviour at home
What happens when a music-deprived home is suddenly wired up with Sonos speakers and Apple Music? More sex, for starters.
Slave to the algorithm? How music fans can reclaim their playlists from Spotify
Streaming services may have an uncanny feel for our tastes, but what have they done to our relationship with music? In this extract from his latest book, Ben Ratliff recommends ways to start listening for ourselves again
Mellow music may help stave off road rage
Promptly changing to soothing music is the most effective way to calm down while driving in stressful conditions that could trigger road rage, finds researcher Marjolein van der Zwaag, of Philips Research Laboratories in Eindhoven. (2013)

Benjamin Zander: the transformative power of classical music
Benjamin Zander has two infectious passions: classical music, and helping us all realize our untapped love for it – and by extension, our untapped love for all new possibilities, new experiences, new connections. Funny, moving, and musical. (2008)
The future of streaming
How do Chinese music consumers compare to those in the US?
Streaming is booming in China. And it turns out well-off consumers are more likely to visit live shows than their American counterparts.
Why everyone is wrong about Pandora (or — who should buy Pandora)
After Soundcloud, now lots of buzz around Pandora which is reportedly looking for a sale. Investor Harry DeMott explores likely candidates and brings up some interesting ideas, including this one:

"What if artists banded together and opted out of Sound Exchange, and instead decided to take their future royalties from Pandora and put them to use buying out the company?"
Closing thoughts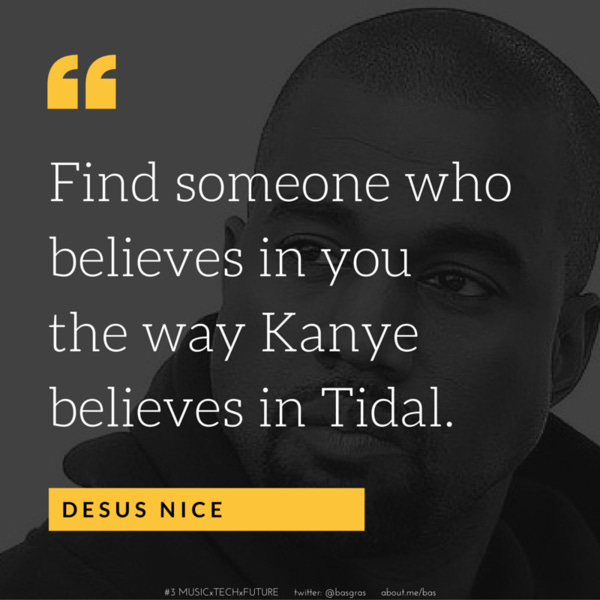 Work in music or entertainment and need help with digital strategy?
Give me a shout. I'm currently taking on new projects.
P.S. If you work in music & tech, consider joining the Music Tech Network on Slack.
Regular insights about the future of music, media & tech. Written & composed by @basgras.
If you don't want these updates anymore, please unsubscribe here.
If you were forwarded this newsletter and you like it, you can subscribe here.
Powered by Revue