#29: Building the world's largest DJ video platform 📹 and our changing relationship with music 🎷
Hey everyone!
Two new introductions this week. I'm going to be doing a series of interviews with people at music startups. I want to show how new tech makes it into products & services and what you can do to leverage this innovation. Today is the first in this series!
Secondly, last week I published our first article not written by me. It's about our changing relationship with music. More on this, further down in the newsletter.
Love,
Bas
Interview: Wil Benton (Chew.tv) about building a livestreaming platform for DJs
Read the full interview on MxTxF or Medium.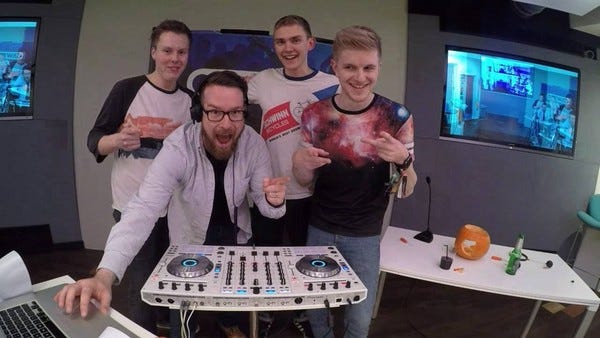 Can Chew be to music what Twitch is to gaming? Find out what it takes to build the world's largest video platform for DJs.
Wil Benton is one of the founders of Chew, a service that lets performers create a livestream of their DJ or studio sessions. They were launched in May 2015 and signed up tens of thousands of creators, broadcasting hundreds of thousands of hours of music.

Not only does Chew provide a platform where you can interact with DJs while they're playing — it also functions as a massive archive of DJ sets, easily rivaling those of Boiler Room, and providing a more visual alternative to Mixcloud.
This is the first edition of a series of interviews with music startup founders and professionals. With the series, I want to shine a light on what goes on in music startups, how they work and what their challenges are. So, first up: Wil about building Chew.


How has the journey been since graduating from the Ignite startup accelerator?
It may sound cliched, but we really wouldn't be here today without the support and guidance we had on the Ignite accelerator. The team were the first to believe in Ben Bowler and I as founders, investing in us as a team (our idea pre-programme wasn't quite as strong as it is today!) and giving us the focus and headspace to start building what became Chew at the start of last year.
Our continuing success is testament to the Ignite team and all that they do — so can't really say more than that!
Some people argue that investors are wary of investing in music startups due to uncertainties with rights and monetization. Have you encountered this?

In a word, no. Not yet anyway!
I think, had we not been demonstrating 'interesting' metrics and engagement on both sides of our creator & consumer marketplace, we would've found it harder to raise the two rounds of seed funding we've raised to date — but, on the whole, raising investment's been a pleasure so far!
We're gearing up to our first institutional round towards the end of this year; and conversations there have been promising too; again possibly thanks to the numbers we've got. That and the large amount of time we spend talking to our investors (both currently and looking to invest).
You ran a crowdfunding campaign letting users invest & get equity. What made you choose this?

We looked at crowdfunding as a way to fill part of the seed round we did at the start of this year. We're building a community-based business, so it made sense to look at crowdfunding as a way of allowing our EU-based users to invest.

What better way to demonstrate we're building something of value than our users actually investing in what we're building?

We ended up having 122 individuals investing in the campaign; many Chew users but also supporters who saw value in what we're doing. Seedrs, the platform we used, operate a nominee structure where their legal entity represents all 122 investors' interest — but we have a great relationship with both parties and keep them in the loop with news on the business every fortnight.

Crowdfunding as a route to accessing capital isn't the easiest thing to do — but as a way of generating interest in our community, product, and offering, it was unparalleled.

Read the rest of the interview on MxTxF or Medium.
Our changing relationship with music and its new practical function
A few weeks ago, I put out a call for forward-thinking people, with a knack for writing, to contribute to MUSIC x TECH x FUTURE. I'm happy to introduce Thiago R. Pinto - a strategist with an audio engineering background, who spends a lot of his building partnerships and developing new products and services.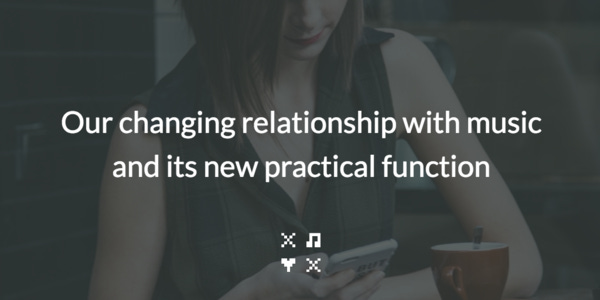 Click image for article
He wrote an excellent thought piece analyzing our historical relationship with music, our new utilitarian attitude towards music, and how so many people misunderstand this new orientation.
Top stories this week
Going to concerts regularly leads to a happier life, according to a new study
Science says you need to get in the pit.
consequenceofsound.net • Share
Tristan Perich's new album, Noise Patterns, is a dumb machine that turns data into noise into hypnotic music
Tbilisi and the politics of raving
A look into the nightlife scene of Tbilisi, Georgia. Every time I move to a new city in a new country, it's such an adventure exploring the nightlife culture. This article does a great job at getting me thinking of getting on a plane again… off to a new place to explore.
www.residentadvisor.net • Share
Spotify rewarding artists that release more music
Good take by Chris Robley of the CD Baby blog. Releasing more music also makes it easier to sustain attention over long periods.
diymusician.cdbaby.com • Share
SightSound versus Apple, and the death squad for patents
"We're the guys who invented the download music store, showed it all to Steve, and got rolled by Apple."
Putting a computer in your brain is no longer science fiction
This company wants to help humans win the race against artificial intelligence by putting a chip in their heads.
www.washingtonpost.com • Share
Tomorrow's musical instruments look like lightsabers and metal detectors
Inside London's Augmented Instruments Lab, where music can be hacked out of anything.
Consider voting for these SXSW panels
The panelpicker hustle is ON. Here are some of the panels being pitched by friends of MUSIC x TECH x FUTURE.
If you'd like to support MUSIC x TECH x FUTURE, consider sharing the newsletter, our articles, and following us on these platforms:
Love,
Bas
twitter - linkedin - musicxtechxfuture.com
Regular insights about the future of music, media & tech. Written & composed by @basgras.
If you don't want these updates anymore, please unsubscribe here.
If you were forwarded this newsletter and you like it, you can subscribe here.
Powered by Revue