#28: ⬆️ Rise of Yellow Claw (Case-Study), Music & Machine Learning + Much More
Hey everyone,
Got way too close to the deadline this week, because I got carried away writing a case-study about one of my favourite groups.
Thanks for all the kind words about last week's article. I wrote another piece about the impact of algorithms on the music biz which you may not have seen.
Hope you enjoy this week's mailing!
Love,
Bas
The hyped rise of Yellow Claw: a case-study
What started out as an Amsterdam club night in 2010, quickly became a global dance music phenomenon. A look at the strategy behind Yellow Claw's rise to fame.
Act 1: The Netherlands
Yellow Claw started out as a weekly Thursday night party in a hip Amsterdam club called Jimmy Woo. They played a sound which is sometimes referred to as urban eclectic in The Netherlands, mixing up dance music, hiphop, R&B and Caribbean music like dancehall or bubbling. Early on, they had ideas for tracks they wanted to play, but they simply didn't exist. So they worked with an upcoming producer, Boaz van de Beatz, who has also produced for Major Lazer, to create more of the sound they're looking for.

In 2012, these songs, in part because of their network, became big hits in The Netherlands and Belgium. The trio started putting out mixtapes featuring known and unreleased tracks. The mixtapes contained humorous intros and shoutouts that played into current events. They understood the Dutch sentiment well and played into it. Their 2013 ode to the Dutch gabber subculture is a testament to that.

They figured out how to play the hype cycle. Creating anticipation for their mixtapes with video trailers, which created anticipation for new releases, which created anticipation for live shows… It's a closed hype loop. This is the other ingredient to their success: their songs became hits, because they knew how to build anticipation, so people would buy their music on day 1, making it hit the charts. Immediate traffic also helps a lot with the recommendation algorithms of content on YouTube and Facebook.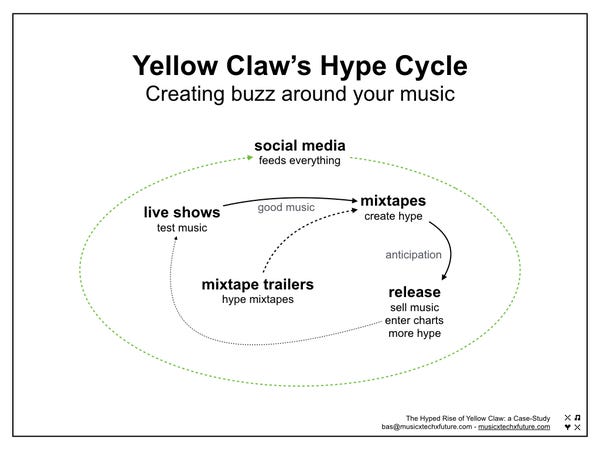 By that time, everyone in The Netherlands knew who they were. They started getting attention from abroad and released an EP on the label of Major Lazer's Diplo, Mad Decent. Around this time, they switched their mixtapes to English intros and shoutouts and later that year they had a massive global hit: Shotgun.

As someone who had been keeping an eye on them, for the love of moombahton and trap, that was phenomenal. For a few months in late 2013 and early 2014, I would hear Shotgun on the radio nearly every time I took a taxi. In Moscow.
Act 2: International
At this time they basically went on a non-stop tour. They worked with Amsterdam/Berlin fashion-label Daily Paper to establish their first merch line. The idea was not to just have band shirts to show you're a fan. They wanted to design clothes that actually look good and make sense for the emerging subculture. They didn't just make clothes for their fans: they made clothes they like themselves and would often be seen on Instagram and their music videos rocking their apparel.

Seeing them live in 2012 and in 2016 are drastically different experiences. Their fans are hardcore and love their apparel. You'll find yourself in an ocean (read: mosh pit) of Yellow Claw merch.

They really found their voice on social media, too. Retweeting fans praise, running a stellar Instagram account, and a Snapchat which gives more of a behind-the-scenes look. All of these feed into their hype cycles and are great instruments to remain top of mind and to drive fans' actions.

In a panel at Amsterdam Dance Event they proclaimed that they exclusively play their own music live. They use live shows to determine what tracks work and don't work, and only release the ones that get the type of response they desire.
Act 3: Barong Family
Then they founded their own label. The thing I admire about Yellow Claw is that they've always done things on their own terms. They had always been indie, putting all of their music on Soundcloud for free, but this was the next step.
Over the years, they had worked with many talented producers and DJs to create their music, like Cesqeaux, Wiwek, LNY TNZ and Mightyfools. Now it was time to help them achieve the same levels of success. They created an additional apparel line with the Barong Family branding and their live sets and mixtapes are no longer exclusively Yellow Claw. They put the people they work with in the spotlight.

This is so in keeping with hiphop or dance music subcultures, but disappointingly rare when it comes to bigger artists with high mainstream appeal.
They've been throwing Barong Family nights in multiple countries and are now embarking on a world tour with their crew.

Strategic Take-Aways
Here are some of the most important lessons from Yellow Claw's success:
Take care of aesthetics, everywhere. Present a consistent image.


Don't do everything yourself. Work with the best. Their musical collaborations and fashion label are a testament to that.


Prioritize building an audience. This will help you figure out what new music your fans will like or not.


Use social media to keep the buzz going and to always be top of mind for your fans.


Don't be afraid to experiment with sounds. If you have your own audience who loves it, you don't have to compromise.


Figure out business models that let you leverage hype: eg. give music away for free, but earn money from live shows and apparel.

More by me
Thanks Quartz and Spidersweb 🇵🇱 for picking up last week's story!
Click to read article.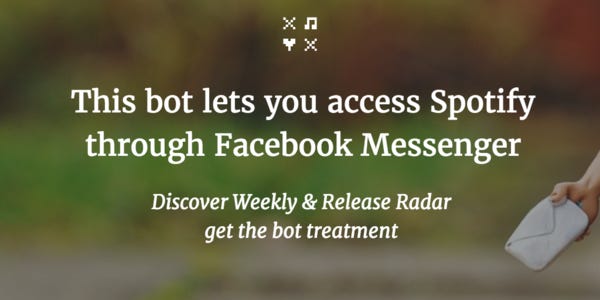 Click to read article.
Must-reads
🎥 Can A.I. write a Hollywood film?
Over recent years, we've seen artificial intelligence systems designed to write software, compose music, paint works of art, and even pen news articles, but how close are we to having machines pen our blockbuster films?
🤖 Mapping the world of music using machine learning
A great intro to machine learning & music.
💸 The ridiculous concept of the 'Value Gap' in music services... And how it could harm both the tech industry and the music industry
My personal issue with the phrase is that lobbyist-speak immediately establishes a frame and makes real design of the future of the music business difficult. I try to avoid this phrase.
🎧 Can "brain music" help Olympic wrestlers?
A startup claims music composed "specifically for the brain" might help Olympic wrestlers win their matches in Rio.
💻 ToneDen launches new engagement platform
And it looks pretty awesome.
⛓ The Dot Blockchain Music Project is now in closed beta
Read about what's happening with Benji Rogers' blockchain for music project.
In closing
I hope you've enjoyed this edition! If you want to do me a favour - share this mailing. Use the social media buttons at the bottom, forward the email, or ping someone this sign-up link.

If your project's in need of a strategic update, a kick-ass content strategy, or an energized community - get in touch. You can simply reply to this email.

Love,
Bas
@basgras - linkedin - musicxtechxfuture.com

Regular insights about the future of music, media & tech. Written & composed by @basgras.
If you don't want these updates anymore, please unsubscribe here.
If you were forwarded this newsletter and you like it, you can subscribe here.
Powered by Revue