#22: Are pay-per-stream royalties costing artists tens of thousands of dollars? - Apple & Tidal - Warner's $3B debt - Mixed reality
Hey everybody,
Played around with some streaming data in a spreadsheet last week - and made some interesting findings that I'm happy to share with you. If you're in Holland and want to come see a panel about the future of music this Thursday in The Hague (and attend the rest of Border Sessions for free), send me an email TODAY. I still have some guest spots available.
Love,
Bas
Are pay-per-stream royalties costing artists tens of thousands of dollars?
Is it fair that a 50-second song costs the same as a 20-minute composition? Back in the days of album-driven sales, track length didn't matter much. If an album contains 50 tracks of 1 minute each (punk, grindcore), it would sell for roughly same price as an album with 3 tracks lasting 20 minutes each (post-rock, ambient).
Streaming services have changed this. Payouts occur on a per-stream basis. All songs treated equally. This means that if the amount paid per-stream is something like $0.005, Godspeed You! Black Emperor would make just 2 cents every time someone listens to Lift Your Skinny Fists Like Antennas to Heaven (runtime: 1h27m).

Royalty rates are variable and depend on total revenue vs total amount of plays. Spotify uses this formula:


I took a look at Spotify's top 50, since they publicly communicate the number of playbacks. Assuming a pay-per-stream rate of $0.005, which may differ from reality, I summed one week's worth of total plays to understand the volume of the royalty pool and the cut each track would take. Then I took into account track lengths and compared the two. The difference for Spotify's top hits runs into tens of thousands of dollars — per song.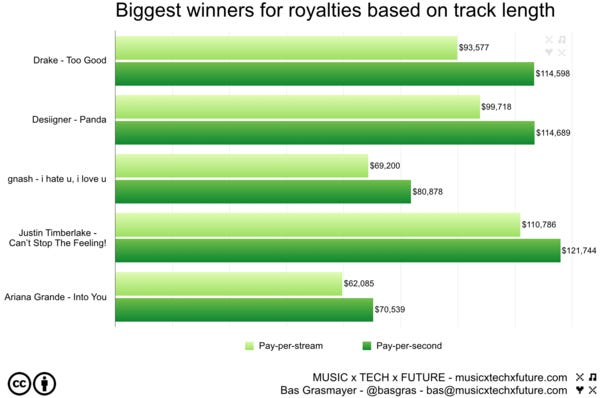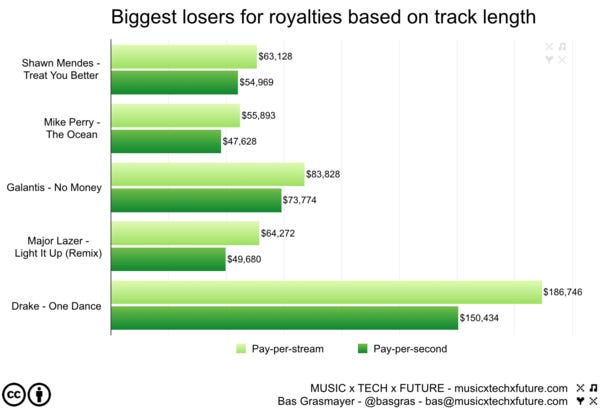 If charts were based on time spent per song, rather than total number of plays per song, here are the biggest risers:

Drake "Controlla" (24 → 15)


Nick Jonas "Close" (32 → 23)


G-Eazy "Me, Myself & I" (35 → 26)

And the biggest fallers:

Mike Perry "The Ocean" (27 → 36)


Shawn Mendes "Treat You Better" (16 → 25)


Major Lazer "Light It Up (Remix)" (15 → 31)
Changes in accounting make a multi-million dollar difference
The top of Spotify's global chart is not the most important area in terms of implications. The implications are greatest for artists and labels who produce music in genres that are structurally paid less per minute than other genres.
Spotify currently claims to have 100 million monthly active users. 30% of which are subscribers. They're adding 1.8 million users per month. 80% of Spotify users use it multiple times a week, 25% use Spotify more than 20 days per month. It likely serves over a billion streams daily. Apple Music has 13 million paying subscribers. Other services hold millions more of users. All streaming hours and hours of music each month. According to the IFPI, streaming revenues amounted to $2.9 billion in 2015.
Massive pies are being built that need to be split fairly. Music industry analyst Mark Mulligan recently uncovered that indie music's global market share is closer to 38% rather than the 20% conventionally believed and added:
"This matters not for bragging rights but because in the digital marketplace, market share shapes the deals that are struck, with more market share translating into better terms. So a more accurate measure of share can help the independent sector compete on fairer terms."
Debates need to occur about market share, pay-per-stream versus time-based royalties, and the way subscription payments are divided. Streaming services are not the ultimate deciders in this: they're locked into pay-per-stream royalties with the industry through contracts with differing renewal or extension cycles. Therefore, these changes need wide coalitions to occur. It would also help to have a truly competitive music streaming market that nurtures models beyond the typical $10/month all-you-can-eat services.
Streaming is here to stay. It's a necessary layer for a healthy music landscape. In this landscape, it's currently very difficult for artists to practice autonomy over the pricing of their music. Two $20 albums of equal length receive completely different payments for the same amount of plays if their track counts differ.
Is that fair?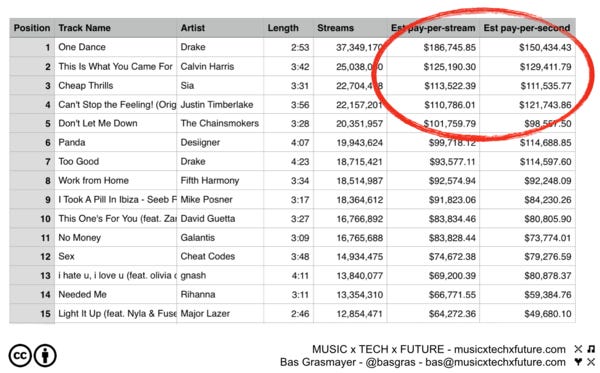 Disclaimer: the royalty rate used in this article is based on an assumption and taken from a Billboard article dating back a year. In reality, royalties are slightly more complex eg. through subscribers' streams counting heavier than ad-supported users'. Any total numbers resulting from using this assumption are therefore completely fictional.
However, even fictional numbers are useful in debating this. Whether the exact number per specific track is smaller or greater doesn't matter. We're still talking about how billions of dollars are distributed each year.
Top stories this week
How Apple Music and Tidal transformed streaming (and why Apple may be buying Tidal)
Why is Apple in the market for Tidal? Apple wants its Beats customers back, just like it wants its iTunes customers back from Spotify.
musicindustryblog.wordpress.com • Share
Warner Music's $3 billion debt upgraded to B1 "high default risk"
While the world's third largest music group's outlook is considered "stable," Moody says that WMG's risk of defaulting on its loans is "high" (B1-PA).
The winner in mixed reality will be… Snapchat
With lenses and filters, the ephemeral social giant is halfway there already
Building the best fanbase with data
How fan data can improve your bottom line and help your brand create long lasting value
The average person touches their phone 2,617 times per day
dscout tracked nearly 100 users' smartphone interactions 24/7 for 5 days and recorded millions of touches and the reactions of the people who made them. Cool data.
The laws of mixed reality, or mixed reality without the rose-colored glasses
Mixed reality represents an evolution of human consciousness that is possibly more profound and impactful than we acknowledge, particularly when viewed in the context of rapid technological innovation, exponential growth, and nature of the larger economic system.

Yonder Music unlocks the emerging market opportunity
Yonder has four key assets that that have driven success so far: a curated content offering, a telco optimized business model, a focus on emerging markets , an offering for pre-pay customers.
musicindustryblog.wordpress.com • Share
Thanks for reading. Remember - clicking reply gets you straight to my inbox. Don't be a stranger! If you enjoy receiving this, you can help me out by recommending it on social media or by forwarding this email.
Love,
Bas
@basgras - linkedin - musicxtechxfuture.com
Regular insights about the future of music, media & tech. Written & composed by @basgras.
If you don't want these updates anymore, please unsubscribe here.
If you were forwarded this newsletter and you like it, you can subscribe here.
Powered by Revue