#21: Automate, or Get Automated: How to Save Yourself from the Robot Revolution + Music in Indie Games + DAO lessons + YouTube algorithms + Spotify, Netflix data + more
Hey everyone,
What a crazy week. I think everything's been said about Brexit and the music business, so I'll refrain from comment. Just Google those words and you'll get more than enough info. Explore the underlying issue, too.
I flew to Berklee Valencia this week to deliver a lecture about leveraging data and networks through automation, so I thought it would be fitting if I shared some of that with you in this week's lead article. Enjoy!
Much love,
Bas
Automate, or Get Automated: How to Save Yourself from the Robot Revolution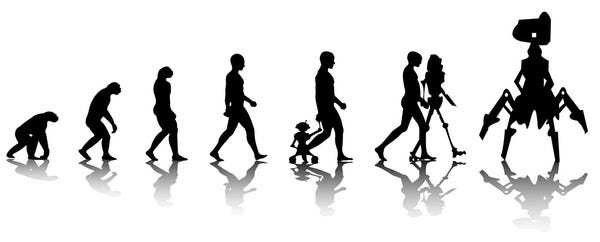 By 2025, a quarter of the people you know will be displaced by smart software or robots in their place of work. Already, many people find themselves unemployed, underemployed or part of 'hidden unemployment' because they've simply stopped looking for work. It's inevitable — technology and automation is going to advance faster than we can invent new 'jobs'. Researchers at the World Economic Forum predict that by 2020, 5 million jobs could be lost in the US due to the disruptive nature of automation.
There are political solutions — some advocate the institution of an unconditional basic income. It could negate the necessity to depend on the support of friends or family who still hold employment, eg. by taxing the megacorporation oligarchies springing out of these developments in tech, and provide some freedom to a displaced workforce and a little bonus on top for everyone still fully employed. It could usher in a creative golden age, where people can afford the risk to spend more time making music or using the advancements in 3D-printing, peer-production, etc.
But politics is slow. Either you're too young and restless to wait for it, or you're so aware of your impending demise that you simply don't have the patience. Both may apply.
What can you do now?
In order to understand automation, you've got to apply automation.
This will make you a valuable asset to organisations, and if it somehow doesn't, at least you'll know how to do more with less.
Automation is an investment. Often, it takes some time to set something up and to tweak it to get it just right, but if you do it right, it gives you a return on investment within weeks, days, or in some cases hours.
My favourite tools for automation are Buffer and IFTTT.
Buffer is a super powerful tool that helps you buffer your social media posts. You can set particular times of day when things should go out. You have a queue which you can keep filled up. To top it off, Buffer even recommends relevant articles, images and quotes you can add.
It tracks performance data and then recommends the best times to post things and lets you automatically adjust your schedule to those times with one click. Very helpful when you have followers across multiple timezones.
If you really want to get a grasp on automation, you should start using IFTTT right away.
IFTTT stands for If This Then That. It's the basic statement at the heart of programming. The service lets you tie together services you're using and then set a condition on one service that triggers an action on another. Some examples:
They have an entire collection dedicated to music lovers >>>

Spend some time on IFTTT and try some of their ready-made recipes like the ones above. If you're feeling brave and creative, set up your own recipe to automate something you do regularly (eg. copying items from a team task management tool to your personal to-do list). Remember that these automations can be used to create something new, like raw datasets, which can then be organised and automated for other purposes.
A final pro tip: tell your friends about this tool and see what type of things they automate. You'll be surprised and inspired.
More on automation
And yes, the lead article's title is quite tongue in cheek 😜
Want to build your fanbase? Get your music into games

Don't miss my post on Synchtank's blog about the value of getting your music into games and how to approach the indie game developer community to do so.
Must-reads
If you missed the news about cryptocurrency Ethereum and the DAO, read the top link first:

In closing
Had a lot of fun doing a guest lecture at Berklee Valencia last week. Next up: Border Sessions in The Hague - the most thought-provoking conference in The Netherlands, in my opinion. And, dear readers, I have an extra ticket… Ping me.
Have a great week everyone – oh, and move this message into your inbox to improve mail filtering. 😉
Love,
Bas
Regular insights about the future of music, media & tech. Written & composed by @basgras.
If you don't want these updates anymore, please unsubscribe here.
If you were forwarded this newsletter and you like it, you can subscribe here.
Powered by Revue