#17: Music industry not ready for Blockchain - plus: VR, Ethereum, Skin Orgasms, Chocolate & Illegal Raves
Hey everyone - it's been a great week collaborating with fascinating people at Music Tech Fest. I've actually been holding off on talking about the blockchain, because I was due to participate in a week-long think tank. Let's break that silence!
Also, if you're near The Hague on July 7, stay tuned for news about a panel on interactive audiovisual experiences we're organising at one of Holland's most fascinating conferences.
Remember: your email client has a reply button. If you want to talk about your project or about any of the below, I'm just one click away.
Love from Berlin,
Bas
The music industry isn't ready for the Blockchain

The blockchain cannot solve the music industry's problems, before the industry figures out a way to solve them themselves.
Blockchain and its promise
The blockchain is the distributed database model underlying cryptocurrencies like Bitcoin and Ethereum. It takes peer-to-peer technology to data records. Instead of having all data on one computer, it lives on the computers of everyone who participates in the database. You can only write to it: this means that if you want to change data into the database, you declare what the new info is, but the old version remains in the system, so that the change is transparent. A bit like with ledgers.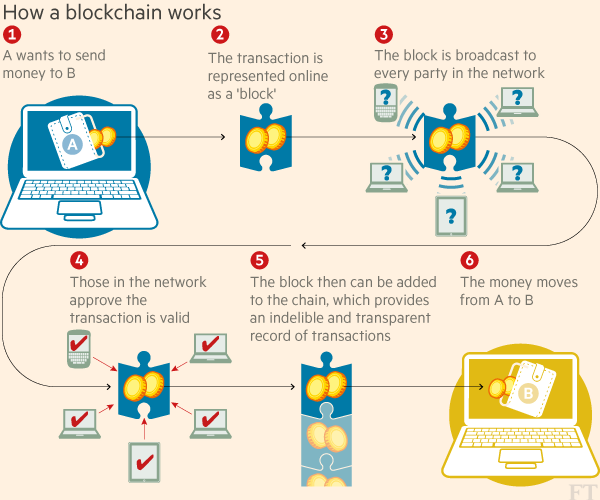 FT chart explaining blockchain enabled payment transactions
In short, it gives a certain guarantee of transparency and security, by utilizing decentralized technologies. Every day there are headlines about companies in the banking industry employing blockchain technology. Technologies like this could make the music industry more fair and transparent, and reduce a lot of friction around rights and payments, leaving more money to flow from fan to creator. The biggest obstacle, however, is the music industry itself.
Adopting blockchain

In the week-long Blockchain Labs sessions at Music Tech Fest Berlin, we identified 3 domains for the Blockchain in the (recorded) music business:
The problem in getting the music industry to adopt the blockchain for anything beyond metadata, is that there are competing interests. For instance, if you've invested a lot of money into marketing a sub-licensed work in a certain territory, you wouldn't want everyone to be able to see when your right expires… because then you'll have a lot of competitors who might try to secure those rights.
There's a lot of interest in making payments transparent, so that it becomes clear how much a party like Spotify actually pays to certain labels, and what happens to that money along the chain to the creators. Creators are likely to have privacy concerns about having their income being public though.
Other organisations have a risk of redundancy - although they might secure a new role for themselves by participating.
Moving forward

There are two likely ways in which this can play out:
The music industry gets together in sessions and makes a real effort to make rights and payments more transparent and more fair, on a global scale. This will be a transparency conversation, not a blockchain conversation.


A new generation of companies come up and show creators, entrepreneurs and fans that another value chain is possible, that is more rewarding for both artists & listeners. Not only is it more transparent, but it is able to reduce a lot of friction, so that as it scales, it becomes more efficient than the legacy music industry.

Things can change fast. When we refer to the music industry, we're actually referring to an area of the business dominated by the recording industry, but the recording industry has only acquired this dominance in the last 80 years.
What about the next 80 years?
Blockchain
Virtual Reality
Muy bueno
Thanks for reading!
If you know someone who might be interested in these mailings, please forward them this email or this sign up link. You can further support me by retweeting this tweet - it helps your followers subscribe to MUSIC x TECH x FUTURE with just one click.
Love,
Bas
@basgras - linkedin - musicxtechxfuture.com
Regular insights about the future of music, media & tech. Written & composed by @basgras.
If you don't want these updates anymore, please unsubscribe here.
If you were forwarded this newsletter and you like it, you can subscribe here.
Powered by Revue