✖️ Instagram vs SoundCloud: the battle for the center of music culture | AI music, virtual worlds, and gaming 🎮
Why SoundCloud's most important competitor is not Spotify, but Instagram.
Hi everybody,
Hope you're all doing well.
In case you missed it, back in March I launched a daily newsletter called MUSIC x CORONA. It curates the most important reads on how the music industry is weathering the crisis, and occassionally I'll add some additional perspective.
I hope you find it valuable.
Love,
Bas 💚
---
Instagram vs SoundCloud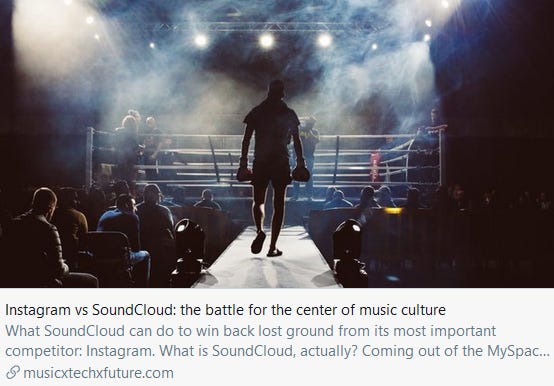 It's strange to say as someone working in music, but over the past year I've been getting back into music. I started up a new artist project, mostly for DJing although I'm now also getting back into production.
As such I've been spending a lot of time with artist communities: in part to help establish a stronger local scene. During this time something that had been more of a gut feeling started to become more pronounced.
Instagram is probably the most important platform for music culture right now.
So I penned a piece. Follow the link below to read more about:
why SoundCloud's most important competitor is not Spotify, but Instagram;

how SoundCloud beat MySpace and conquered the center of music culture;

how music started behaving like internet memes;

how the company risked it all by becoming more like Spotify;

what SoundCloud can do to win back lost ground from its most important competitor.
---
Artificial intelligence, streaming royalties, and gaming
Portrait XO's AI-partnered single & video
Portrait XO is an artist who seems to love exploring the limits of technology, to push the limits of creativity. For this track, she collaborated with CJ Carr of Dadabots (known for their AI-generated infinite death metal livestream) to essentially create with herself again, through AI. CJ fed an hour of Portrait XO's vocals to a neural network to generate 10 hours of new audio. (read more)
What is the value of exposure when exposure is all there is?
As the COVID-19 crisis hit and people across the industry, artists especially, started scrambling for income, an ongoing discussion about the height of streaming royalties came to be accelerated.
There are more than a few good reads on the topic, and most recently Mark Mulligan of MIDiA Research weighed in with his own article (which also links to some of those other good reads).
He concludes the following:
Streaming royalties can be increased meaningfully if prices are increased and rates revisited but it may slow the streaming market

Now is probably not the best time to be increasing streaming prices for consumers

Even a big increase is not going to offset the fall in live income
To understand hwo he gets to that conclusion and what he recommends on the basis of that, read his entire piece.
Music, virtual worlds, and gaming
Long-time readers of the newsletter will know I have a penchant for looking at gaming to identify future models for the music business. The last weeks have been interesting for me.
I've been bullish on livestreams. While I think there's a place for them, they can't replicate the experience they often try to replace, and they're a lazy use of the medium. The cool thing about the web is that you can make things interactive, you can build community, you can let others express themselves. When you perform live, people will express themselves by dressing up and dancing. How do they do it when they watch you live virtually?
A lot has been written about it, including some great stuff by Cherie Hu. If you don't know her, Google her, and subscribe to her newsletter. In the last week, the most holistic takes I've seen on the subject are the following:
Why Hip-Hop and Gaming are Still Scratching the Surface: Dan Runcie of Trapital dives into the different demographics of gaming and the opportunities beyond Travis Scott's Fortnite performances.

Why the Music Business Should Be Looking Closely at Fortnite and Epic Games: Tim Ingham of Music Business Worldwide takes a more meta view at the business empire of Epic Games and how it came to be. There are various great takeaways (including a reminder that Epic Games owns social video chat game Houseparty), but the one I'll highlight is the company's acquisition of a study that creates hyperrealistic models of humans. It reminds me of Strangeloop Studios' pitch at Techstars Music's online demo day: they create virtual characters and made a case for it being possible for future music stars to be completely virtual. Makes sense, especially for people s pending a lot of time in those worlds. And while music's fan culture hasn't embraced it yet, people have been fans of virtual characters through stories, books, and film already. Music being tied to 'real' people is an exception, an outlier, and that's about to change.
---
That's all for this edition. I hope you enjoyed reading it. If so, consider sharing this newsletter by forwarding it, posting it in a Slack, on LinkedIn, Twitter, WhatsApp group, etc. to people who may also find value in it.
---
❤️ twitter - musicxtechxfuture.com - musicxgreen.com - music x corona - harddanceberlin.com - linkedin