✖️ Fostering local music scenes in an age of austerity, gentrification and climate change 🏚️
Warner & Universal IPOs, 100 true fans, Soundcloud's future secure?
Hi everybody,
This week: another launch. 🚀 Read all about it below.
(get used to these: I am trying to launch 12 projects this year)
If any of you are going to be at Future Party Lab / Clubtopia in Berlin on Wednesday, about making the city's nightlife more sustainable, I'd love to meet. Drop me a line.
And thanks for the kind words. I don't always have the space to reply to everything (I try!), but I see it all and really appreciate it.
Love,
Bas 💚
---
Announcing Hard Dance Berlin (or: fostering local scenes in an age of austerity, gentrification and climate change)
Settling in Berlin to work in classical music at IDAGIO (from which I have since moved on), I was pleased to find out that the city's nightlife is also host to a great variety of harder styles of dance music.
Having been born in The Netherlands, I was practically spoon-fed gabber music. Maybe not by my parents, but by friends and their older siblings, music television, and the last 20-30 minutes of practically every school dance (click here for an example of one of the tracks popular among young & old back then). Hardcore, as it's also called, was everywhere.
After moving to Berlin, I'd go out and explore different scenes every now and then. I read books about the history of the city's subcultures, their music, their styles, and how they came together after the Wall fell (if there's one book I can recommend, it's Paul Hockenos' Berlin Calling - unrelated to the film by the same title). When you read about things like this, it can feel like you have arrived too late. I felt it again when I read the book, just like how I felt when I first started researching the origins of house music and the free party culture. Back then I wished I'd been an adult when all that happened, so I could have participated.
In the case of Berlin however, that feeling turned into something else. And here's what you should know if you've ever shared that feeling I just described: you ARE participating. You CAN make something that people are going to miss in the future. Starting may be the hardest part.
Oops. Where was I?
Ah yes, as I became more of a participant in Berlin's music cultures, I started noticing something. Hard dance was surging once more. People are extremely excited about these sounds. Hardcore, hardstyle, hardtechno, breakcore, donk… Throw in a tune like that in your house or techno set and people go wild - a temporary voyage. But some scenes, particularly parts of the techno scene, started taking a more long-term journey into hard dance. Yet the scenes aren't mixing. I don't see the techno people at hardstyle parties, and if the techno crowds throw a hardstyle night, I don't see any of the people from those scenes.* They're vaguely aware of each other's existence, but that's about it.
So I figured: let's map this out. Let's list all the performers. Link their Soundclouds. Try to identify all the parties. Let's get people listening to each other. Remove the boundaries of genres and scenes, so we can just focus on the textures, tempos, and energies of each other's music.
That directory is now live, and lives on harddanceberlin.com. 💥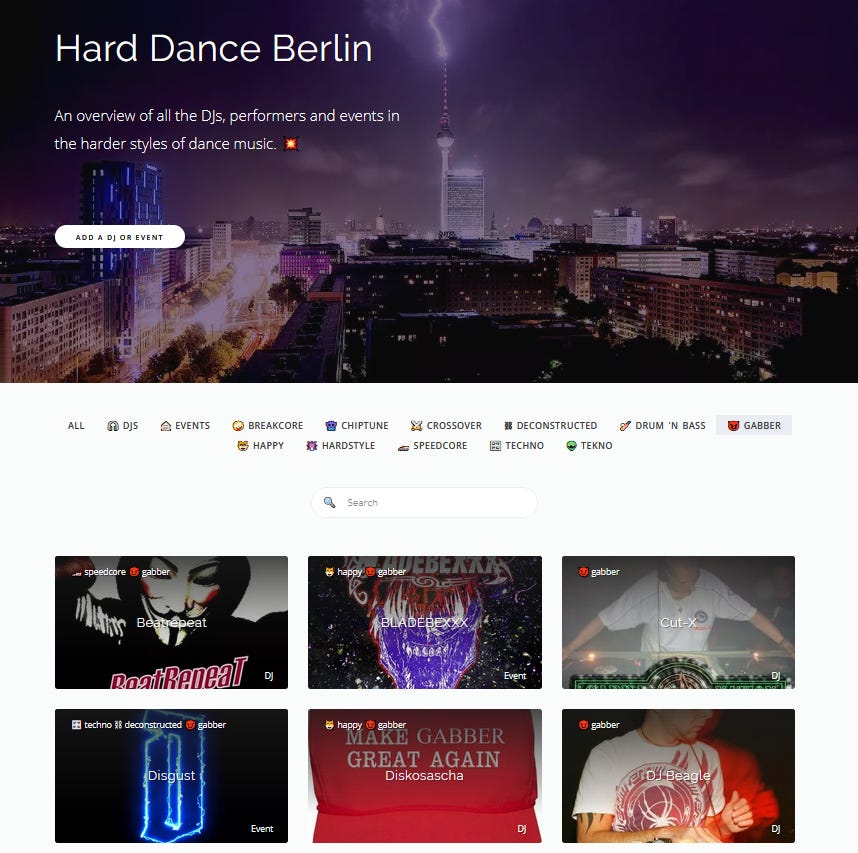 There is also a calendar on Resident Advisor and an Instagram (@harddanceberlin) which I use to highlight events through the stories feature (by far the most important platform for music, IMO - it's really attaining Myspace levels - I'm not on boomerbook though, so my perspective may be skewed).
Local resistance: dealing with austerity, gentrification, and climate change
I hope to see more local projects. They're so important.
Music is under pressure globally. To keep things local in context: over the past 10 years around a 100 clubs have had to close in Berlin. This is why Berlin's Clubcommission is fighting to give nightlife venues the same status as opera houses. Austerity and gentrification are threats to the scenes, so if you care about what's going on where you are: invest. Help promote and build audiences. Support local artists. And if you can afford it, then use guest lists to skip the queue, but still pay an entrance fee to support the venue & artists.
Another reason why it's important to support local artists: more local gigs means they'll have to travel less to make a living and more local talent means it becomes easier to put events together without having to fly someone over.
Air travel is bound to become more expensive through 'Green Deals' being discussed in Europe and the US. Further austerity might hit our music scenes still. So better start building.
All we need is some space. And this we can create for each other.
(small disclaimer: Hard Dance Berlin has no relation to the brand that's known for filming DJ sets and putting them on YouTube, who threw a one-off event by the same name. The term has been around for a long time, and I like straightforward names for my projects.)
*big respect to some parties who actually have managed to attain some scene crossover.
---
Quick ones
Fun ones
---
❤️ twitter - musicxtechxfuture.com - musicxgreen.com - harddanceberlin.com - linkedin