✖️ Building music communities through Instagram stories 📱
Lessons and tactics for social media in the ephemeral age
Hi everybody,
I'm very excited to once more go to Lyon for European Lab / Nuits Sonores, where I'll be moderating a panel on my two favourite topics: dance music and sustainability.
Hope to see you there!
Love,
Bas 💚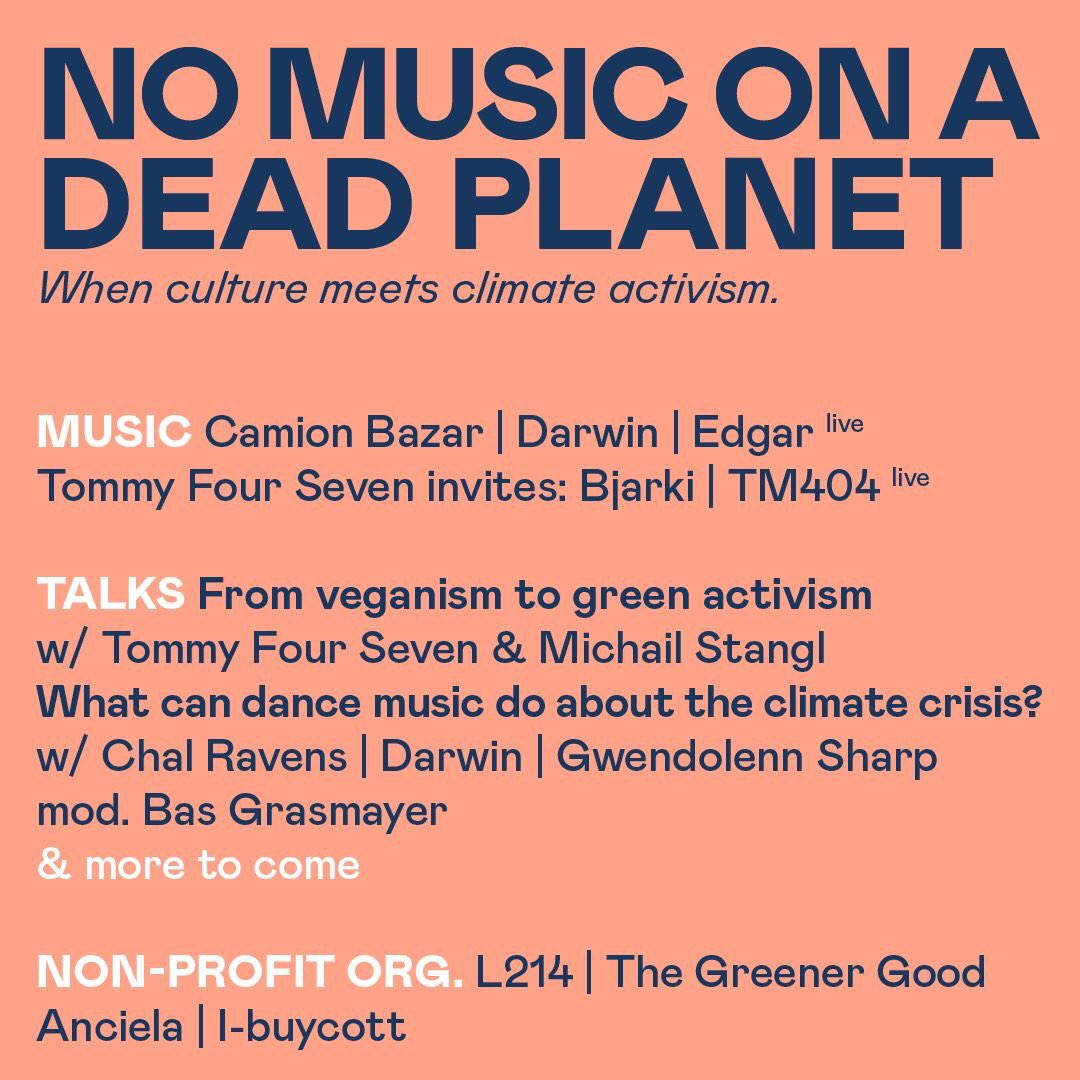 P.S. Would love to play somewhere while I'm out there. Sounds are happy & fast (Soundcloud). Drop me a line.
---
Building a music community with Instragram stories
Last week I announced the launch of Hard Dance Berlin. Since then, I have been spending a few minutes each day building up the community around it by leveraging Instagram stories (@harddanceberlin).
I hope by highlighting some of the activities, you'll find some inspiration for how to grow your own projects.
Goal & tools
The Instagram account is very much an extension of the project's main site. The goal being to highlight performers and events in Berlin's harder and faster styles of electronic music.
Instagram is a place where people interested in this already spend their time - as opposed to a random new site - and a tool many of them use to discover events and music.
Stories' ephemeral nature make it easy to drip interesting content for this community every day.
Key principle: support, support, support
In general, whenever you create something, make sure it solves problems whether they're your own or other people's. This should be your primary goal and activity. This is how you shape something valuable. Look for problems; solve them.
Give more than you take. If you ask for anything in the beginning, then ask people to help you help them. In my case that means soliciting promo material, images, etc. so I can better promote other people's events to the community.
The ethos is: support, support, support - the music, the people, the parties and the scenes. Double down on your ethos early on, because things can get muddy later on and there's always a risk of believing in your own hype once things take off.
This also makes it easier for people to join and help the community: if there is growth potential in an area, the goal should be to grow everything. If one part of the community grows stronger, we all grow stronger.
Method & content
Here are the types of content I currently post to serve the community. I'll highlight for each one how they help to grow the Instagram:
Short-term highlights ("check out this party tonight")

Longer-term highlights ("next week xyz", "just announced next month: x")

Music highlights ("check out the new mix by xyz")
Short-term highlights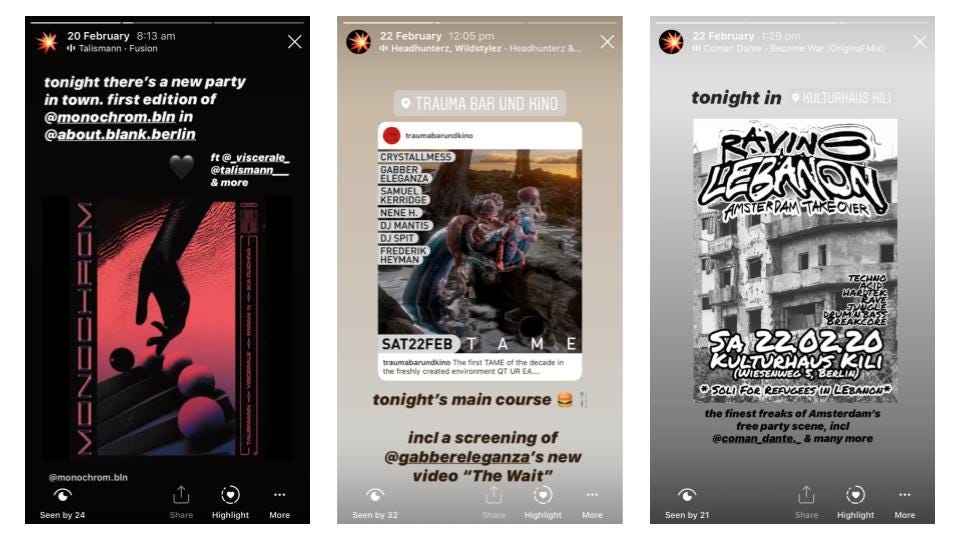 When focusing on events, I try to do the following things:
Share a picture from the promoter or venue's Instagram timeline. This helps connect the community to people active in the scene, and it also sends a notification to the account holder and allows them to repost the story to their own stories (in turn giving @harddanceberlin more exposure).

Tag as many (relevant) people as possible (the event's performers, promoter, venue, etc). This again provides value for fans to understand what's going on and helps them check stuff out, but it also means your story can now be shared by anyone who was tagged.

Location tags. Tagging to a location increases your discoverability for people checking out stories around that area. To be honest, I consider this optional as it usually just gives 1 or 2 more views per story and I'm not sure if it has lead to follows. Sometimes you can get lucky and get hundreds of views though.

Add the MUSIC one might expect at the event to the story. It's an important service to the community using the stories to determine whether to investigate an event, but if it's music by one of the performers, it also makes it more likely they'll repost your story.
The 'growth hacking' term is leveraging "other people's audience" (OPA).
Longer-term highlights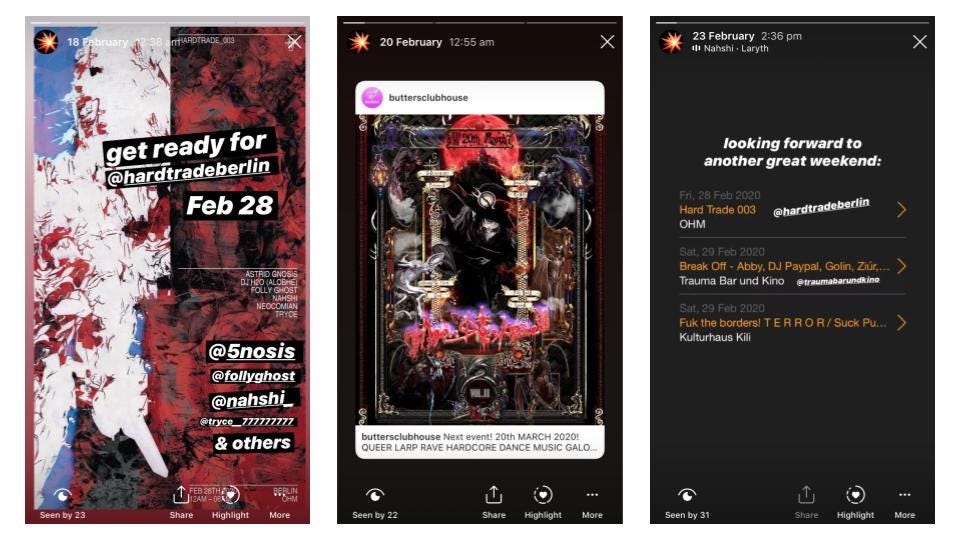 Longer term highlights focus on events from about a week or so out. It follows a very similar approach as the shorter term highlights, incl. tagging the performers. This allows people from out of town to repost your story to announce to their fans that they're going to be in town. It also means you can build up some extra hype for particularly interesting events and line-ups.
The above screenshots also indicate how it only takes me a few minutes per day: for story 1, the artwork was sent to me by the promoter. For story 2, I just reposted one of the promoters' announcements. For story 3, I made a screenshot of the Resident Advisor calendar I maintain and cropped out irrelevant stuff.
Music highlights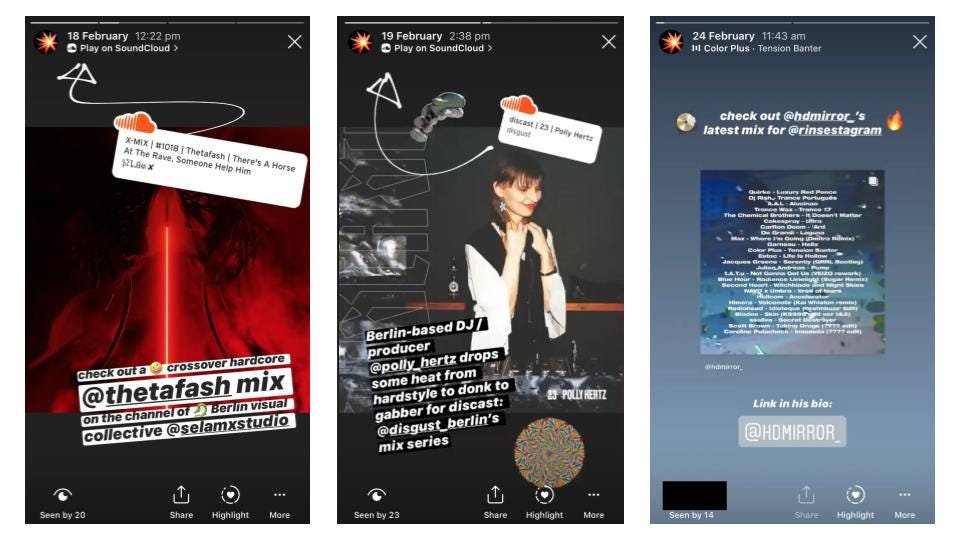 On weekdays with zero events (Berlin can be wild and last week actually had a relevant event every night of the week), I'll highlight music of local producers, DJs, labels, collectives, etc.
Currently about 50% of all followers see the account's stories. That's a high engagement rate and I want to keep it there, so ideally I have something for people daily. It's also important to keep the growth momentum up. I'll explain why next.
Instagram account discovery
Alright. So, someone I tagged reposted a story. What now?
I tend to go for really clear names when naming projects. MUSIC x TECH x FUTURE is exactly the scope of the content; it's what I want to talk and think about. MUSIC x GREEN was actually going to be called MUSIC x SUSTAINABILITY, but the latter word was annoying to type out in a URL. So this is called Hard Dance Berlin - a bit tricky SEO-wise since a big YouTube music channel has done an event in this city by that name once, but it explains exactly what the project is about.
So when somebody sees the account name when content is reposted, it's pretty self-explanatory that if you tap on the story and go to the profile, you're going to get more of hard dance in the context of Berlin.
So here's what you'll see: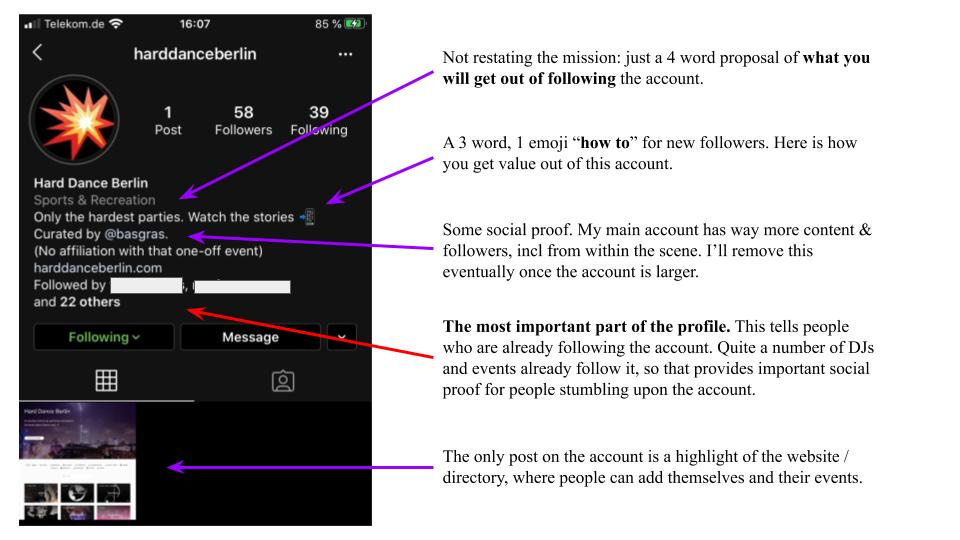 And that's it. Within two weeks, I should have it organically at 100 highly relevant and engaged followers. By summer, I think I can hit 1k. Should I do some paid promotion, that can go a lot faster. The upside of something as niche as this, is that it is easy to know where to find your audience when targeting ads.
Maybe it seems highly tactical, or whatever, but the reason why I spend my spare time on it is because of the love for the music.
Not everything can be done online! I'm too old now to visit all of the events, but I try to make sure to go to a decent portion of them, speak to some people, etc. and also play sometimes. This has helped me get some early visibility with friends following and resharing some of the content.
I hope the above has been helpful and insightful, and not just blowing my own horn.
If there's just one takeaway, let it be this: always give more than you take.
---
New on MUSIC x GREEN
A few recent highlights around music and sustainability:
FEAT. is an Australian coalition of artists investing in solar energy to decrease their climate footprints (article in the Guardian).

Effect Partners works with artists, athletes, and brands to accelerate climate positive solutions.
---
Thanks for the read! Light on the links this week. I'll make up for it next week… or the week after ;-)
❤️ twitter - musicxtechxfuture.com - musicxgreen.com - harddanceberlin.com - linkedin